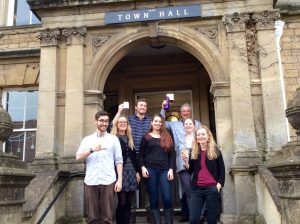 On 13th December 2017 Frome Town Council unanimously agreed to become a 'single-use' plastic-free council. This will be done by phasing out the use of unrecyclable single-use plastic products in all council activities by April 2018. The Council will also encourage facility users and local organisations to do the same by promoting alternatives and organising a bulk buy. Already several cafes in the town including: Moo and Two, Garden Cafe and the River House have agreed to phase out plastic straws, to reduce straws used and to replace plastic straws with either biodegradable or paper ones. A full list of cafes who sign up will be available soon along with a Plastic Free Guide to Frome.
Our plans were featured on Points West here
A new Plastic Free Frome website with map and directory is available here
Plastic Free Events
Previous events
August 22nd 2018: 5-7pm Frome Town Hall – free workshop to make costumes from recycled plastic to wear at Frome Carnival on 22nd September.
June 6th 2018, 12.30pm or 7.30pm Frome Town Hall – A Plastic Ocean film screening – book tickets here 
May 8th 2018, 7.30pm, Frome Town Hall – Plastic Free Frome meeting – open to anyone to plan action to reduce plastic waste in Frome.
Community Event February 20th Frome Town Hall
More than 70 people came to our community event to discuss and plan activities around reducing plastic waste in Frome. The notes from the workshop are below.
You can also join our Facebook page and sign up to our mailing list here.
Actions you can do as an individual
Remember your refillable water bottle
Take a reusable coffee cup and refuse single-use take away cups
Refuse single-use packaging
Resist a straw or a buy a re-usable one
Refuse a single-use plastic bag and take your own
Take your own cutlery or use sustainable alternatives
Avoid single-use plastics in the bathroom
Refuse single-use condiment sachets
If you visit a beach grab a handful of plastic pollution and recycle or dispose of it
Get local milk in reusable glass bottles from Tytherington Milk Station and Chilcompton Milk Station
More ideas at: www.sas.org.uk/plasticfreecoastlines
Non-plastic catering equipment and packaging can be bought from the following suppliers: