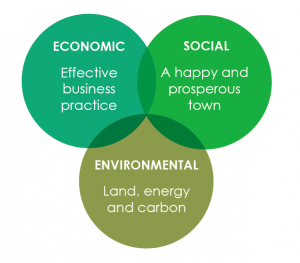 Frome Town Council offers free good business reviews for local businesses.
Through inviting businesses to fill in an online questionnaire, we aim to learn about the good things businesses are doing as well as offering the chance to explore together ways of helping reduce their environmental impact and connect with the local community.
Benefits to businesses include opportunities to:
Reflect on strategic priorities and ways of working
Reduce the organisation's environmental impact
Create stronger links with other organisations and contribute to the prosperity and well-being of the town
Gain recognition for their economic, social and environmental practice through receiving a Good Business certification
You can fill in the questionnaire below and if you'd like to receive a Good Business review please contact Anna Francis
Create your own user feedback survey
B Corps
Frome Town Council is keen to support and promote 'good businesses', business that values social and environmental impacts alongside economic development. As part of this we are exploring whether to link up with B Corps – a global movement to measure impacts, share resources and ensure that these values are embedded into the core of what businesses are about. See draft info pack below:
B Corp – Frome – Information Pack 
Thanks to the likes of Sir David Attenborough and Greta Thunberg, we all more aware than ever that we need to make some changes to how we live. But what we often forget is that we need to make changes to how we work too. The short films below from Jen Gale, Sustainable-ish CIC founder, Anna Francis, Resilience Manager at Frome Town Council and Johannes Moeller, Director of Edventure: Frome CIC, outline changes we can make, the benefits of taking action and support that is available.
Last updated May 2020