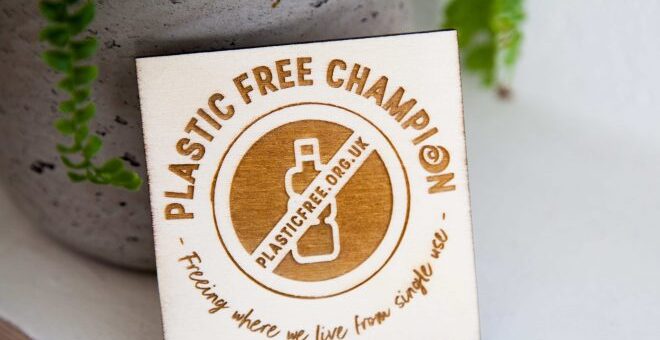 Removing the option to purchase and/or use single-use plastics is the easiest way for people to avoid them. Making suitable, sustainable alternatives readily available to customers will bring about a change in behaviour and reduce the amount of throwaway plastic in our society.
In order for Frome to keep its status as a Plastic Free Community, we need more businesses and community groups to remove or replace a minimum of three items of single-use plastic but we'd always like to hear from more businesses keen to make the change.
Could you be a plastic free champion?
All you have to do to become a Plastic Free Champion or Community Ally is make the plastic-free pledge to:
Work to remove at least three single-use plastic items from your day-to-day activities (This can include things you've already removed or don't use and can be flexible based on the nature of your work)
Commit to include your stance on single-use plastics in communications (You could put up a poster or tell people about your plastic free status in your newsletter)
Raise awareness and support plastic free initiatives in the community (you could hold an event such as a community clean to help spread the word)
Once we've shown Surfers Against Sewage what you're doing to meet this pledge, they'll approve you as an ally and send you your certificate – and you'll be an integral part of our community's fight against single-use plastic.
If you have any questions, get in touch with Jo, our Resilience officer, at JMorris@frometowncouncil.gov.uk.
To make the change easier, we can also try and help you source sustainable alternatives. Find out more information about plastic alternatives, or can download the Plastic Free Communities Business Toolkit:
Frome's Plastic Free Champions
Congratulations to the local businesses who have so far been awarded Plastic Free Champions status:
Below we've put together a list of useful links for non-plastic catering equipment and packaging that could help you on your journey to become a Plastic Free Champion: