Frome Town Council recognises the calls from scientists, governments and the international community to urgently move away from fossil fuel use, deforestation and other human activities that are causing climate change and biodiversity loss.
We recognise that climate change is already happening and building local resilience is crucial to dealing with the consequences of this. We believe that while national governments need to act ambitiously on climate change and biodiversity loss through legislation and international cooperation, there is also a lot we can do as a town, as neighbourhoods and households to reduce our carbon footprint, protect biodiversity, increase resilience and create a greener and healthier future for everyone in Frome.
Frome Town Council declared a Climate Emergency and followed this with declaration of Ecological Emergency in 2021. Recognising that these issues are interconnected we now refer to the "Climate and Ecological Emergency".
From Emergency to Opportunity
The urgent action that we need to take to address climate change present a significant challenge but also an opportunity. Moving away from fossil fuels to clean energy and modes of transport will create cleaner air and healthier lifestyles; planting more trees and returning land to wildlife will increase biodiversity and safeguard species and our treasured forests and green spaces for future generations. Eating local, seasonal food will strengthen the local economy and create jobs.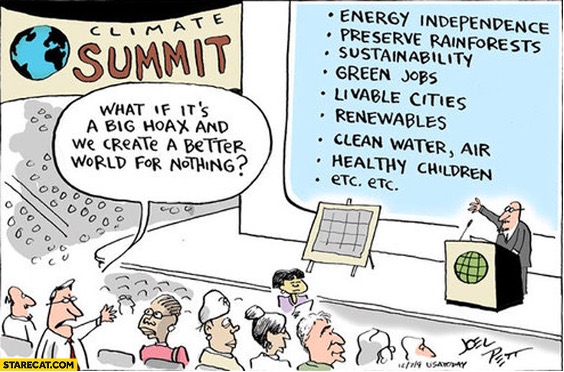 Frome's Carbon Footprint
The University of Exeter and the Centre for Sustainable Energy (CSE) have created a modelling tool for towns and parishes to understand their emissions footprint. Explore their interactive IMPACT tool.
This chart shows the "territorial" emissions of the whole town- meaning the emissions that are produced in Frome (apart from aviation and shipping which are included here as a proportion of the national total based on Frome's population).
The tool demonstrates that 61% of Frome's emissions are from energy use in buildings – both commercial buildings and housing. Therefore improving the energy efficiency of buildings and moving towards renewable sources for heat and electricity is crucial for Frome to becoming carbon neutral. Road transport accounts for 12% of Frome's territorial emissions.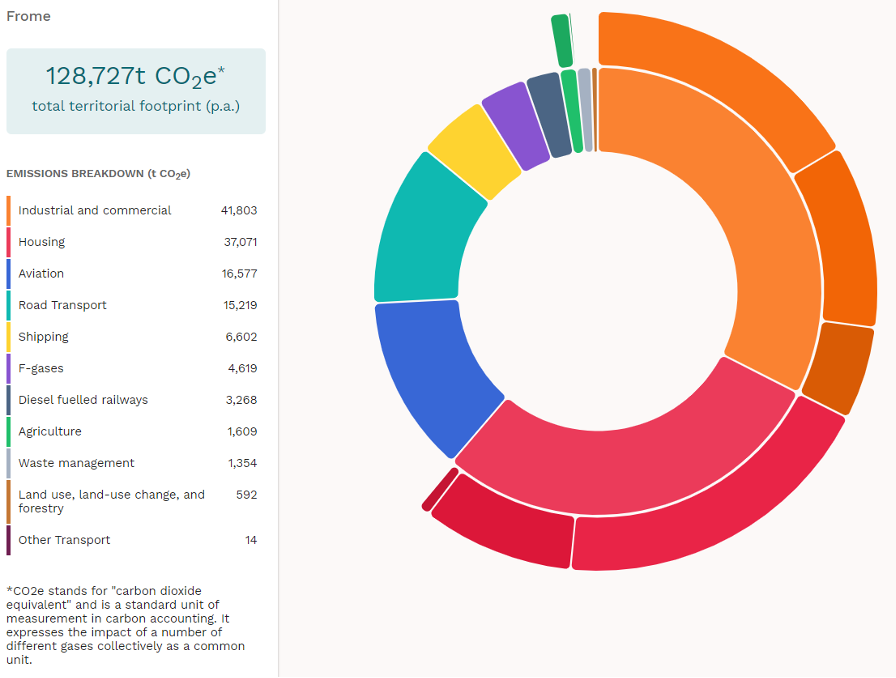 This chart shows the "consumption" emissions per household in Frome. This is the total amount of emissions associated with the things we buy.
The highest sources of emissions per household are: Food and diet 24%, Household energy 20%Purchase of goods (clothes, toys, furniture etc.) 19%, Travel 18%.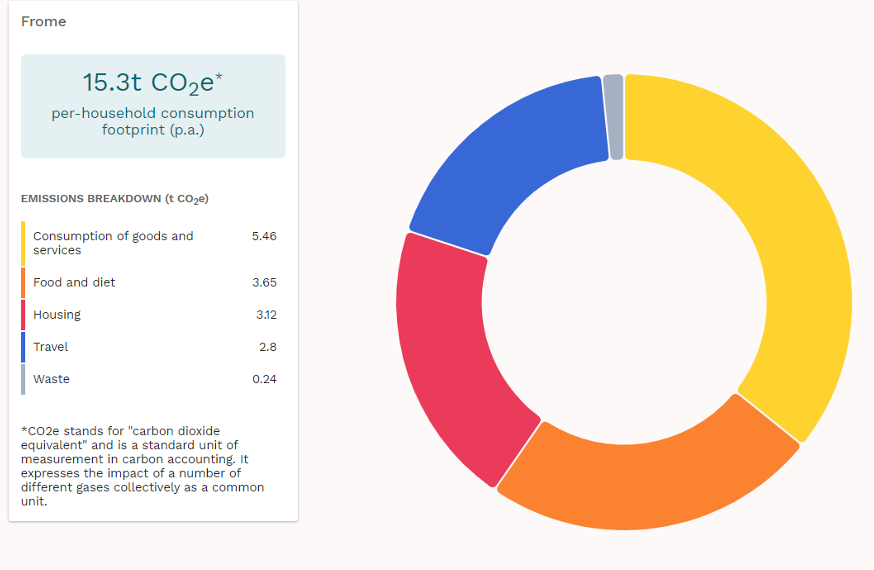 View the full report of Frome's Carbon Footprint:
To understand how you can reduce your household's emissions, take a look at What can I do?
Find out how Frome as a town can become carbon neutral see Frome's Climate Emergency Strategy.