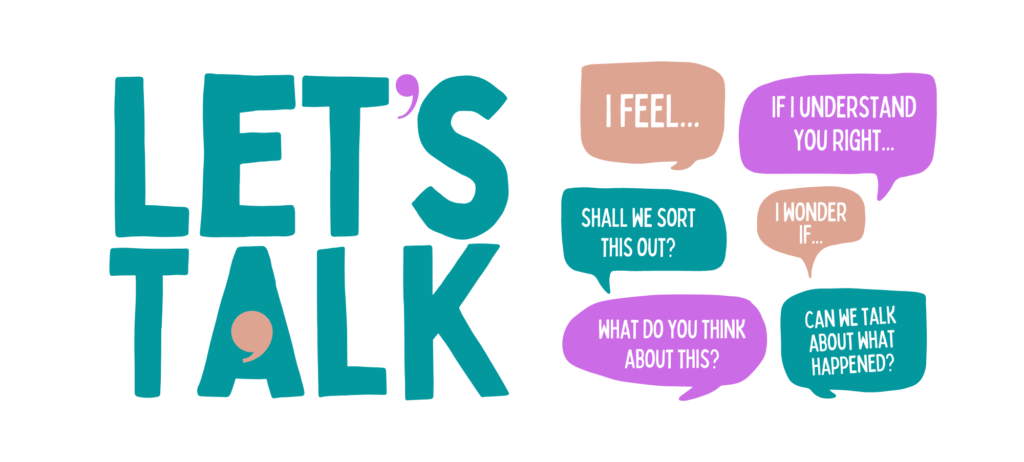 What other people say and do affects us constantly, whether they are family, friends, neighbours or colleagues. These relationships can be wonderful. They can also be difficult, confusing, stressful and tiring.
Let's Talk can help. Everyone in this Frome community group has had some simple training in Restorative Conversations and learned some skills which have made a big difference.
We have a printed toolkit which explains some of those skills so that you can use them too. They might help you change a difficult conversation into a useful one, or help you work through something worrying with a family member or a neighbour.
We also offer a short workshop in these essential tools, run throughout the year (see details below for upcoming workshops). Let's Talk can deliver these workshops to community or neighbourhood groups and organisations too, so please enquire if you'd like to discuss booking something in.
If you're experiencing something a little more complicated in your neighbourhood, organisation or community group, get in touch. We might be able to support you with some facilitated meetings to help move a stuck situation forward.
If you're interested in joining the group or finding out more, please email Hannah Stopford, Frome Town Council's Community Development Officer, at hstopford@frometowncouncil.gov.uk.
Forthcoming dates…
The Let's Talk group will be holding a taster session at the Cheese and Grain on Thursday 4th May from 7pm – 9pm.
Further details and book your free ticket here.
The group are hosting two further in-depth sessions. These will run over consecutive Saturday mornings on 10th June and 17th June (10am-1pm) at Frome Town Hall and offer a broad introduction to the restorative approach, with lots of examples and practical strategies to learn and share. For further details and to book your free ticket see here.