Each year the town comes alive with music with the annual celebration of Frome Busks.
This year, in partnership with Frome College and Selwood Academy, the event will take place on Saturday 18th March. From 11am – 2pm musicians from the college will be bringing live music into the town centre, playing mini sets across key locations including Boyle Cross, Cheap Street, King Street, the Westway, outside the Black Swan Arts and Cheese & Grain, and right up to the Valentine Lamp at the top of Catherine Hill.
There will be a mix of original and well-known songs, with musicians including singers, guitarists, pianists, drummers and even strings. A-Level Music Tech students will also gain technical experience by setting up the event.
Any funds raised through the busking will go towards extra curriculum music performances and productions for Frome College students.
Frome Busks line-up
The provisional line up of acts bringing their talents are:
The Bands Stage (Boyle Cross)
11:00 & 12:20 Butane Skies – Emo meets singer songwriter, enjoy some carefully thought-out arrangements of famous covers alongside some fantastic originals
11:20 & 12:40 The Presence – A group of very talented year 10's; these guys and gals perform an eclectic mix of popular cover songs
11:40 & 13:00 The Carnivores – Some of Frome College's finest post 16 students, expect grunge and alternative covers
12:00 & 13:20 Unnamed Artist – A team of year 11's who enjoy spending their spare time in the music department, they promise high energy drums meets beautiful vocals
13:40 Hushwing – The real seasoned pros, this duo performed last year to great acclaim and are returning better than ever, expect eloquent acoustic originals
The Showcase stage
Selwood Academy who will be welcoming a range of soloists and small groups. The young musicians will then be joined by some Frome College ensembles including the choir, a string group and further soloists.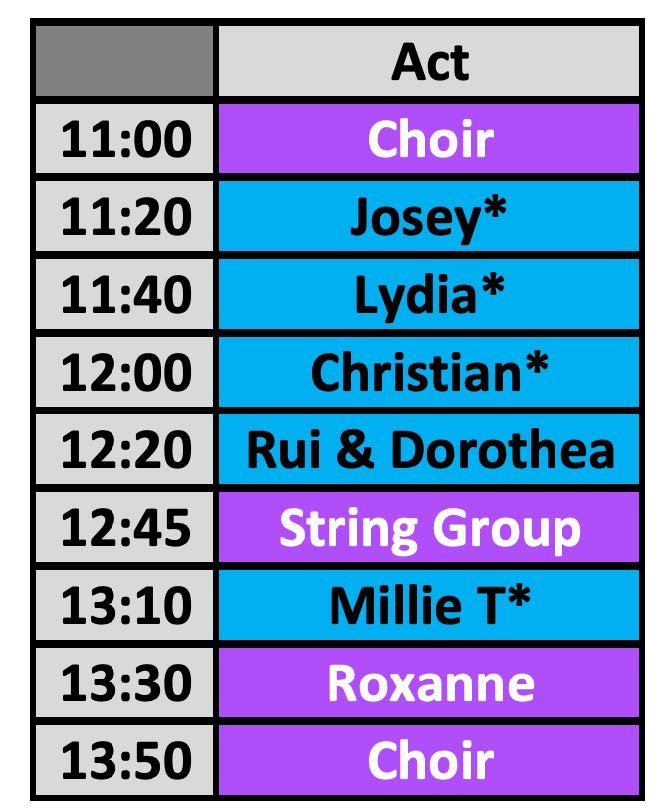 Busking Stations
Millie & Bella – two fantastic year 11 singers and Millie will be providing guitar accompaniment
Ellie – a very strong songwriter from year 13, she will be performing on guitar and singing
Layla- plays a range of pop covers and will be playing her ukulele
BHS – A busking band! Their moveable act (always a challenge with drums) will be jamming and improvising through the event
Alexa & Syd – both year 10 and recently performed in 'School of Rock'. Both are talented vocalists with Alexa accompanying on guitar
Emily – has a love of musical theatre & hard rock classics! Emily plays piano and sings and will be joined by her dad on guitar who is also a keen musician!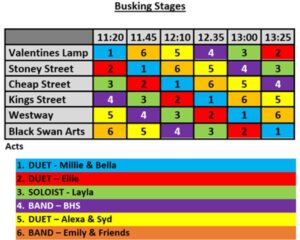 Locations of performers
Check out the locations of the 'Busking Stations'. The artists will rotate across the various spots during the day.