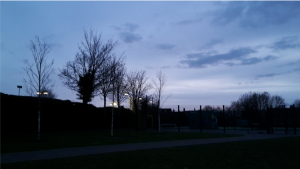 The first Council Matters Meeting of 2019 started with a welcome from the Chair and Councillor Shelia Gore.
At the start of the meeting, it was noted that that the agenda item for the new building for Victoria Park had been withdrawn. Cllr Pippa Goldfinger explained this was because it is an important project for the town and the park – so the Council are taking a bit more time to think about some design ideas.
Next Chris Stringer, Environment Manager, talked about a project that Frome Selwood Tennis Club is looking for the Council to support. The tennis club wants to install floodlights on the three community tennis courts on the Mary Baily playing field at an estimated cost of £60,000 – £70,000. The Chair of the club said that they hope to increase opportunities for local people to play throughout the year, rather than just the summer.
The club have completed an early public consultation inviting comments and questions from over 200 people living in the surrounding area, and have been successful in securing in principle match-funding to cover up to 50% of the project from the Lawn Tennis Association. The Cllrs agreed that before FTC commits to supporting the project, further engagement with local residents is needed and the results will come back to a future Council Matter Committee. Read the report here.
This was followed by a discussion around the proposal for a server replacement presented by Business Manager, Sarah Williams. Sarah explained that FTC's current server is seven years old and no longer covered by warranty; this creates potentially significant issues as currently all emails and documents are stored on it. It was recommended, and agreed, that to eliminate this risk a new IT solution should be purchased; and emails should be moved to Office 365 where they can always be accessed. You can find the report here.
Sarah then gave a short financial update, reporting that the Auditors had no cause for concern and that FTC has a "good standard of control". Cllrs thanked Sarah and Hannah Paniccia, Finance administrator for all their work as well as FTC's previous Responsible Finance Officer, Jackie Wheeler. All details can be found here.
Chris then introduced the suggested management plan for the Old Showfield, which was last looked at a year ago. It was highlighted that a lot had been done in the area including improvements to the footpaths. Going forward FTC are supporting a local committee of people to get a parkrun set up; will be planting more trees; and will be looking to make improvements to the play area, too. Mendip District Councillor, Adam Boyden, said that he had received many positive comments from people about the space including someone saying the "Rangers have done a fantastic job." Read the report here.
Next, the constitution chapters were approved and the regular short update on health, safety and training was given. Find out more here and here. Finally, there was the opportunity for discussion with two local Police Officers who explained that they were moving ahead with some of the recent incidents and felt as if they were having a positive effect in town.
The details of everything mentioned above can be found at www.frometowncouncil.gov.uk and the next Council Matters meeting will be on 29 May. Follow us on Facebook, Twitter and Instagram to keep updated on everything we're up to.