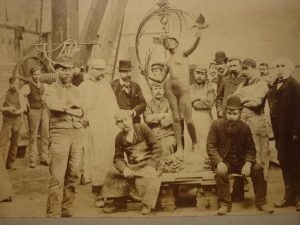 What links these iconic public statues: Boudica on the Thames Embankment; Lady Justice at the Old Bailey; King Alfred in Winchester; 'Charlie' the WW1 soldier outside the Memorial Theatre and the bronze lions in Cape Town, South Africa?  The answer as any self respecting 'Fromie' will know is of course J.W. Singer of Frome.  This year would have marked his 200th birthday.
Founded in 1848, J.W. Singer & Sons started out with a forge on Eagle Lane before moving to a larger town centre site at Waterloo, where around 700 employees were responsible for producing some of the world's best-known statues and sculptures.
Today, if you take a walk around the Foundry Barton area you will see what remains of the Singer's factory with artefacts like the original crane gantry, a power hammer and a sculpture of a camel – all relics of what used to be.
To celebrate the bicentenary, a new project 'Casting the World' will bring this unique part of Frome's history to life through exhibitions at Rook Lane Chapel and Frome Museum, as well as other events throughout 2019.  An education programme devised by Frome Learning Partnership and a publication supported by the Frome Society for Local Study will also follow and this years Frome Festival will be themed around Singer's legacy.
The project will utilise the nationally important Singer's archive of glass plate negatives held by Frome Museum.  It's fantastic that these amazing images have been saved and restored for all of us to enjoy – many will be seen for the first time in public.
The launch event is open to everyone and starts at Frome Museum on Saturday 23rd February from 10am with a walk following the Singer's Trail at 2pm and a formal reception at 3pm.  Such a brilliant and worthwhile project is not to be missed!
Find out more here: http://www.rooklanearts.org.uk/castingtheworld/