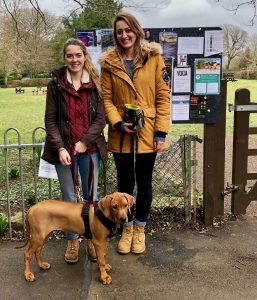 Local dog owners are looking out for each other (and their dogs) by supporting a campaign that raises awareness about some of the reasons that dogs might be on their leads.
Respect the Lead is a national campaign that provides information about how to let your dog interact with other people and other dogs in a happy and safe way. It also highlights the reasons that dogs are often kept on a lead.
Ellie Frew is a local dog owner supporting the campaign in Frome. "I'm really keen to spread the word about this campaign" said Ellie. "The message is simple: if your dog is happy to interact with others then that's great; but remember that this might not be the case for everyone. If you see a dog on a lead, it might be because they're going out for the first time or they could be recovering from a trip to the vets."
General suggestions from the campaign include not letting your dog run straight over to another dog on a lead, checking with dog owners before interacting with their dogs and making sure you are able to recall your dog with ease.
Frome Town Council is supporting the scheme and park-goers and dog walkers can expect to see posters going up on noticeboards in the town's parks and green spaces this spring.
You can find out more about the campaign here: www.respectthelead.com