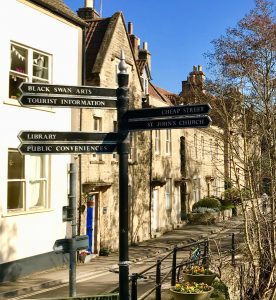 Having a bad day?  Then why not (in the nicest sense) take a walk?  Doctors agree that regular walking lifts the mood, strengthens bones, improves circulation and adds years to your life.  Best of all it's free!
Living in Frome we have access to amazing countryside and beautiful landscapes.  But a walk doesn't have to be an all day event.  Stepping out of the house and going for a stroll for twenty minutes will do the trick and Frome has some fabulous open spaces and fascinating streets to explore.
With this in mind Discover Frome's regular guided walks could be just the thing.  Thanks to Frome Town Council, the walks are taking place twice a week throughout the year on Sunday afternoons and Wednesday evenings.
The Sunday walk  'The Heart of Frome' is a short wander taking in some of Frome's most distinctive landmarks.  The route starts at the Discover Frome Information Point with plenty of facts about Frome's unique, entertaining and interesting history along the way.
Special Wednesday Walks start at 6pm and are £5 each, payable to the guide.  Find out more here: https://www.discoverfrome.co.uk/guided-walks/
Alternatively, our Walkers are Welcome website has details of lots of local walks and walking organisations.  Details here: www.FromeWalkersareWelcome.org
Still on the transport theme, look out for this year's School Travel Challenge involving 8 schools from the 20th May.  Children will be walking, cycling or scooting to school.  Details here: https://www.frometowncouncil.gov.uk/school-travel-challenge-returns/
Finally, by the time you read this my tenure as Town Mayor will be over and someone else will have the honour of being Mayor of Frome for the next twelve months.  It's been epic – I'm only sorry that I couldn't attend every event.
Thank you Frome and best wishes to the new Mayor, I'm sure you will do an excellent job.