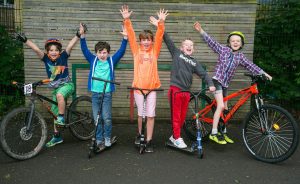 The School Travel Challenge is only a couple of weeks away.  We have 8 Schools taking part this year encouraging pupils and families to walk, cycle or scoot to school as much as possible from 20th-24th May. The week will be filled with fun activities and prizes to motivate pupils.  This includes the smoothie bike, Dr Bike, Cheryl from Rare Species and The Naturals leading a walking bus to each school.
Frome Town Council want to encourage everyone to think about how they travel to school and whether they could make their journeys more active.  They will also be working with schools to continue travelling actively where possible beyond the week of the School Travel Challenge.  This includes promoting  'Walking Wednesday' – leaving the car at home once a week makes a huge difference. Reducing the number of cars near schools makes the area safer and the air cleaner as well as having health benefits.
For anyone who must drive to school we suggest 'park and stride'. Parking a few minutes' walk away will increase the amount of exercise in your day and have a big impact on the number of cars arriving at the school gates
The School Travel Challenge is also raising awareness and funds for local charity Frome's Missing Links.  They are actively working to link up traffic free and accessible walking and cycling routes around Frome, more information here: www.fromesmissinglinks.org.uk
Walking, cycling or scooting to school is a great chance to bring people together, talk and engage with the environment, enjoying the journey without getting caught up in traffic jams and exhaust fumes. If we put our minds to it there are plenty of journeys we can make more active and sustainable.
For more information about the challenge contact Helen at info@frometowncouncil.gov.uk