Meet Councillor Andy Wrintmore who was elected Mayor of Frome on 19th May 2021 at the Annual Council Meeting of Frome Town Council.
Andy represents the Park Ward of Frome as a councillor for Independents for Frome.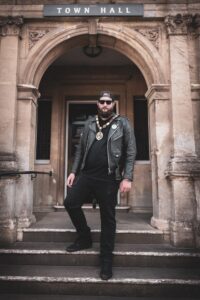 About Andy
Andy has been born and bred in Frome 28 years ago and is named after the devastating hurricane Andrew of 1992. Andy did all his schooling here, starting in Hayesdown, then Selwood before finally progressing to Frome College. While in Frome College he was very active in the media department until his love of music took over. He was a lance corporal in the army cadets and began his drumming career in the "Silver Bugles" cadet band playing the snare drum. After leaving Frome College he enrolled in Bath College spontaneously and on a whim and enjoyed four years there.
Andy has hosted a handful of shows on Frome FM, most notably 'Velocity Rock', which was syndicated to numerous other stations around the world. He has played in various acts and has toured the UK, Europe and America doing so, enjoying being in one of a select few bands from the genre to be embraced and supported by the BBC with Hardcore Punk band SickOnes. Andy now enjoys a new global audience with his popular podcast "The Giant Pod with Andy Wrintmore" where he speaks to people from corners of the world including Musicians, Authors, Artists, Scientists, Academics and more about their lives and their work, celebrating and feeding his curiosity.
Andy has cultivated great friendships, acquaintances and networks through his time working with the public in the town centre (Westway Co-op) and in 2018 took the decision to explore local politics, run for election to become a town councillor and help nurture the town that has provided him with so much encouragement and many great opportunities. Andy is dedicated to being the best Mayor he can be to Frome in this year following the heady challenges of the lockdowns and looks forward to representing, supporting and championing everything Frome as we make the transition out of the pandemic. There is so much to discover here, so many institutions, inspiring community group and initiatives and Andy wants to meet them all, learn about their work and amplify as many as he can because "when you look past the trendy bars, coffee shops and other hipster spots these groups provide the strength and backbone of our community and the true beating heart of our town and they should be celebrated". Andy is also the youngest born and bred Mayor of Frome and stands at a mega 6'9″ which makes him the tallest Mayor in Frome's history and maybe even the tallest in British history?!
To find out even more about Andy and his plans for his year as Mayor, take a look at this film made by local student Rella Star Jefferies.
You can contact the Mayor of Frome on Facebook or follow the Mayor on Twitter.
How do I invite the Mayor to attend an event?
If you would like the Mayor or Deputy Mayor to attend a formal engagement please send as much detail as you can to Laura at lflaherty@frometowncouncil.gov.uk
Please let us know:
The exact time your event starts as well as a finish time.
Where your event is.
What your event is in aid of.
If you'd like the Mayor to say a few words at your event.
Please feel free to complete the booking form for your event or project below.