Meet Councillor Philip Campagna who was elected Mayor of Frome on 17th May 2023 at the Annual Council Meeting of Frome Town Council.
Philip represents the Keyford Ward of Frome as a councillor for Independents for Frome.
About Philip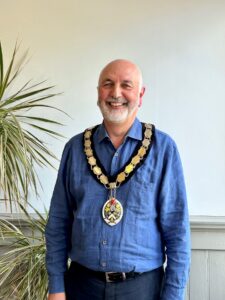 Philip moved to Frome with his family in 1986 and was responsible for opening the first cafe at The Black Swan Arts Centre. Having completed his PGCE in 1993, he taught Modern Languages in schools in Bath and Warminster. He went on to become a Senior Lecturer in Education, PGCE Modern Languages, at Bath Spa University from which he has recently retired. He was a Somerset rugby referee for a number of years and coached junior teams at Frome Rugby Club.
You can contact the Mayor of Frome on Facebook or follow the Mayor on Twitter.
How do I invite the Mayor to attend an event?
If you would like the Mayor or Deputy Mayor to attend a formal engagement please send as much detail as you can to Laura at lflaherty@frometowncouncil.gov.uk
Please let us know:
The exact time your event starts as well as a finish time.
Where your event is.
What your event is in aid of.
If you'd like the Mayor to say a few words at your event.
Please feel free to complete the booking form for your event or project below.