Meet Councillor Sara Butler who was elected Mayor of Frome on 18th May 2022 at the Annual Council Meeting of Frome Town Council.
Sara represents the College Ward of Frome as a councillor for Independents for Frome.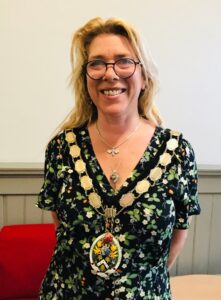 About Sara
Sara is passionate about the local environment and wildlife and works as a wildlife friendly gardener around Frome, which means she has really enjoyed being involved in local projects to help clean up and improve our green spaces, and ensuring that we are maintaining and providing habitats for wildlife to thrive. She is also passionate about challenging inequality and poverty, and thinks that localism and local policy making are vital tools in helping to create fairer communities. Sara finds the town a hugely exciting and engaging place to live, full of brilliant creative and imaginative people. She loves the local art and music scenes, and is also in a band.
You can contact the Mayor of Frome on Facebook or follow the Mayor on Twitter.
How do I invite the Mayor to attend an event?
If you would like the Mayor or Deputy Mayor to attend a formal engagement please send as much detail as you can to Laura at lflaherty@frometowncouncil.gov.uk
Please let us know:
The exact time your event starts as well as a finish time.
Where your event is.
What your event is in aid of.
If you'd like the Mayor to say a few words at your event.
Please feel free to complete the booking form for your event or project below.