Mayor of Frome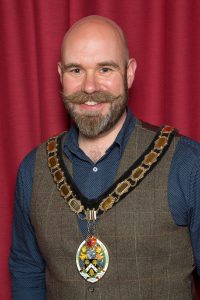 Meet Cllr Toby Eliot who was elected Frome Town Mayor on 25 May 2016 at the Full Council Meeting of Frome Town Council. 
Toby represents the Oakfield Ward of Frome as a councillor  – Independents for Frome.
The Deputy Mayors of Frome for 2016/17 are Cllr Al O'Kane and Cllr Cath Puddick.
Toby, who was born and brought up in Bath now lives in Frome with wife Rosie, eldest son Henry, and youngest son Jasper. Toby works for a local authority and is responsible for managing performance, risk and strategic planning and has a professional interest in how the public sector works and improves.  He was first elected to Frome Town Council in 2011 in the Keyford ward and again in 2015 – this time in Oakfield.
You can contact the Mayor on Facebook or follow the Mayor on Twitter. If you would like the Mayor or Deputy Mayor to attend a formal engagement please send as much detail as you can to admin@frometowncouncil.gov.uk.
Please let us know:
The exact time your event starts as well as a finish time.
Where your event is.
What your event is in aid of.
If you'd like the Mayor to say a few words at your event. 
Please feel free to complete the booking form for your event or project here: Mayor's Event Form.
Deputy Mayors of Frome
Al O'Kane and Cath Puddick are Deputy Mayors for 2016/17. They are both delighted to support the Mayor and the town in their roles as Deputy Mayor.
Al represents the Park Ward for Frome as a councillor – Independents for Frome
Cath represents the Oakfield Ward of Frome as a councillor – Independents for Frome