Mayor of Frome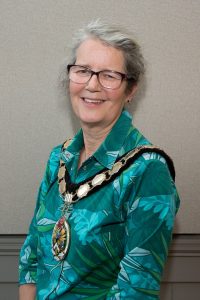 Meet Cllr Sheila Gore who was elected Frome Town Mayor on 24 May 2017 at the Annual Council Meeting of Frome Town Council. 
Sheila represents the Innox Ward of Frome as a councillor  – Independents for Frome.
The Deputy Mayors of Frome for 2017/18 are Cllr Nick White and Cllr Tim O'Connor.
You can contact the Mayor on Facebook or follow the Mayor on Twitter. If you would like the Mayor or Deputy Mayor to attend a formal engagement please send as much detail as you can to flahertyl@frometowncouncil.gov.uk.
Please let us know:
The exact time your event starts as well as a finish time.
Where your event is.
What your event is in aid of.
If you'd like the Mayor to say a few words at your event. 
Please feel free to complete the booking form for your event or project here: Mayor's Event Form.
Deputy Mayors of Frome
Nick White and Tim O'Connor are Deputy Mayors for 2017/18. They are both delighted to support the Mayor and the town in their roles as Deputy Mayor.
Nick represents the College Ward for Frome as a councillor – Independents for Frome
Tim represents the Market Ward of Frome as a councillor – Independents for Frome