Frome Town Council is working with Somerset County Council and Sustrans on the relaunch of the Frome School Streets project. The trial was put on hold last year, but now the team would like to work with the community to find a workable solution to safer streets around our schools.
'School Streets' enable safer and less congested roads by prioritising walking and cycling while limiting vehicular through-traffic. The aim is to design streets that encourage more families to actively travel to school, while maintaining access for anyone who lives and works in the area. The solutions will help reduce air pollution, enable social distancing and create child friendly streets.
It is key that residents engage with the plans and share their local knowledge and feedback to deliver safer streets for our whole community.
What is a 'School Street'?
A School Street is an area that limits vehicle access making it safer for people to walk, cycle or scoot to school. All residents who live in the School Streets area will still be able to access their street without restriction, as will school staff, buses and people with disabilities. All families heading to school will, for the most part, be asked to either walk, cycle, scoot or where not possible, to park and stride for 5 minutes.
Where will the School Streets be?
We have identified Oakfield Road, Somerset Road and the top of Nunney Road as a potential School Street because it links 5 schools with over 1500 pupils – Oakfield Academy, Trinity First School and Critchill School, with the Avanti Park School and Bright Stars nursery nearby, to Victoria Park and runs along the NCN24 cycle route.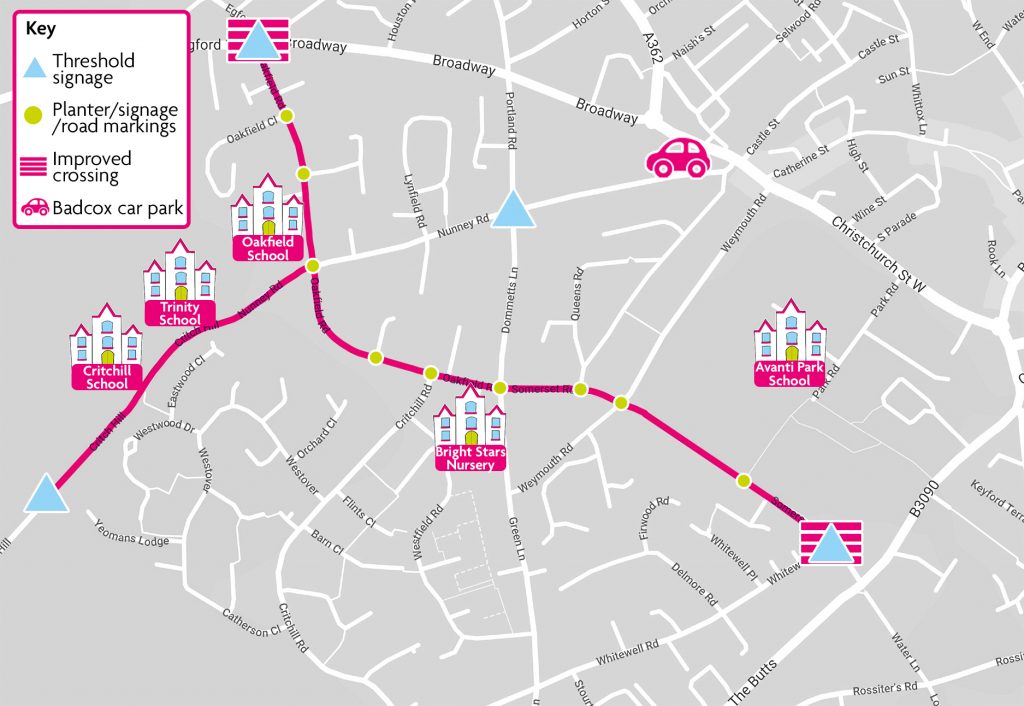 How will it happen?
We're going to be running a series of events from this September with opportunities for both online and for outdoor in-person events to get you involved in co-designing the changes, before we trial them for up to 18 months next spring 2022.
As the people that live, work or travel on the local streets, we need your help to make them better and safer for everyone.
We aim to implement a trial in three stages:
Stage 1 – Co-Design A series of events to co-design the changes before we trial them. This may include carriageway patterns, planters, surfacing, cycle parking, pocket parks and other fun stuff.
Stage 2 – Implementation The design will be trialled next spring for a maximum of 18 months, during that time we will collect feedback from schools, local residents, businesses and the wider community.
Stage 3 – Decision Decide, with the community, whether the School Street should be a permanent fixture.
How can you get involved?
We are holding the following information and co-design events and welcome everyone to come and share their thoughts on the project.
Tuesday 21st September – 3.30pm – 4.30pm, Mary Baily playing field (weather permitting, bandstand in Victoria Park if it's wet)
Tuesday 21st September – 6pm – 7pm, online
Monday 4th October – 3pm – 4pm, location tbc
Tuesday 5th October – 3pm – 4pm, location tbc
Wednesday 6th October – 3pm – 4pm, in front of Avanti Park School
Saturday 9th October – 11am – 2pm, Westway Shopping Centre
If you're unable to attend any of these events you can still share your thoughts with us or ask us questions by email, phone – 01373 465757 or writing to us at Frome Town Hall, Christchurch Street West, BA11 1EB. To hear all the latest details, sign up to the School Streets Newsletter.
Coming in September there will also be the chance to share your thoughts on an interactive website and help shape the design of the School Streets project. Check back for more details.
Keep up to date
We have two mailing lists that you can sign up to to keep up to date with the School Streets project and Active Travel activities in Frome: