Resilience at Frome Town Council
Frome Town Council employs one of the only sustainability officers at town council / parish level in the country. Anna Francis joined the team in April 2014 and since that time has set up a range of projects, supported groups to cut waste and carbon and raised over £850,000 in external funding. The aim of the role is to secure greater resilience and self-reliance in energy and resource-use, support the creation of jobs and training opportunities, enhance wellbeing and to build upon the community's support for sustainability. A summary of what has been achieved over the past five years is available here
Here are a few things you can do in Frome to help reduce carbon and costs:
1) Consider switching energy supplier, this saves on average £200 a year and the green energy companies such as Good Energy and Ecotricity are now very competitively priced – they also do green gas now too. You can compare prices impartially at Bigcleanswitch.org
2) Contact the CSE's free home energy advice line on 0800 082 2234 to find out about any grants or to ask any energy-related questions. Frome also has a team of energy volunteers – if you, or someone you know, are struggling to pay energy bills do get in touch
3) Join Frome's car club – affordable, convenient and low carbon. Perfect if you need access to a vehicle now and again. Use promo code Frome109 to get £1 membership and £25 free driving credit: www.co-wheels.org.uk/frome
4) Hire an e-bike for only £5 for half a day – book on-line here
4) Pop into the UK's first Share shop on the Bridge and see what you can borrow. The average drill is only used 13 minutes in its lifetime, so sharing tools, toys, leisure, catering and other equipment is a great solution. Most items are only £1 or £2 to borrow for a week: www.sharefrome.org. Take a look at their latest Impact Report here.
5) Join lift-share to cut journey costs and carbon: https://somerset.liftshare.com/
6) Reduce food waste, compost and recycle as much as you can – you can now share food that  you're not going to use at Frome's unique community fridge which featured on Jamie Oliver and Jimmy's Food Feast recently
7) Take a look at Frome's Green Directory to help make your home or more comfortable and green. Even small changes, such as draught proofing, or thermal blinds – can make a big difference.
8) Join Sustainable Frome's mailing list to find out what green events and projects are happening each month – they also have free workshops on the first Thursday of the month exploring each of the One Planet principles.
Key areas of work
The resilience role focuses on the main objectives in Frome Council's strategic plan and links in with the One Planet Living framework that underpins Frome's Neighbourhood Plan. Key activities include: Reducing Energy Demand and Costs, Cutting emissions from transport and reducing waste. Frome has committed to becoming a zero carbon town as part of its Clean Healthy Future programme. A range of events and workshops are hosted as part of this. The council is also working to reduce plastic waste, more info here
Frome is also leading on Climate Emergency work.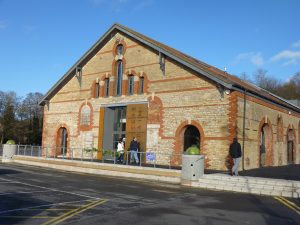 Cheese and Grain Case Study: Frome Town Council has invested in the Cheese & Grain to generate energy (through installing solar panels) and save energy (by improving draught-proofing, creating more natural light, installing LED lighting and tap sensors).In recognition  of this investment, the project has been awarded a prestigious Green Apple Award for Environmental Best Practice in 2014.
Transport: key activities include securing funding and lobbying for better public transport services, setting up and promoting Frome's car club which cuts carbon, costs and pollution, promoting walking and cycling and launching a volunteer driver scheme for Frome. We have a sustainable transport policy and are helping to organise the Active Travel Challenge with local schools.
Further information
For further information on these activities or if you have any ideas to cut carbon and costs please contact Anna Francis, Resilience Officer at francisa@frometowncouncil.gov.uk