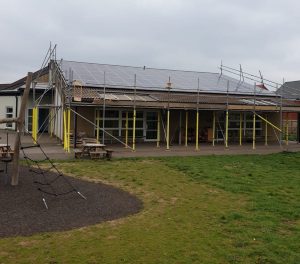 Nearly 60 people attended the launch of Frome's Solar Streets to find out about the new offer that is coming to Frome from Iddea.
Iddea are local solar installers who are offering a big discount if ten or more households sign up and so having 60 people attend the launch was a very positive start. They said 'It was brilliant to see so many people interested in the scheme. We are determined to ensure that as many households in the area as possible benefit from free solar electricity and cut carbon.'
Anna Francis, Frome Town Council's Resilience Manager said 'Iddea are showing that solar is still worth doing despite the Feed in Tariff being removed by government. Each installation will also save around 1500 kgs of carbon dioxide too and helps to secure a safer future for our children. It's fantastic to see this level of uptake. We also worked with Iddea and Green Nation to put free solar panels on Christchurch School and will be launching a solar fund for larger roofs in May. Somerset County Council also put solar on Frome Library last week too. We urgently need to shift away from fossil fuels and it's great to see that change is starting to happen.'
A second information evening is being held at Frome Town Hall on Tuesday 21st May at 7pm. For more information or to book a free survey to see if your home is eligible for solar contact: info@iddea.co.uk. If you have a survey there is absolutely no obligation to buy so Frome residents have nothing to lose.
Published 08/04/2019