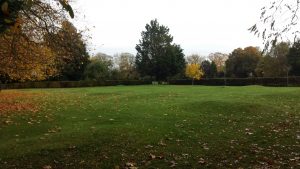 Frome's oldest park
Frome's first public park was created & opened around 1887 to celebrate Queen Victoria's Golden Jubilee.
Not too surprisingly then, Victoria Park is the most formal of the town's open spaces. This means boundary fences, close-cut lawns, rose beds and a variety of mature trees. The park also features a circular footpath running the entire way round – the sort of walking promenade that was typical and beloved of Victorian parks.
On the way round the park you'll find a traditional thatched bandstand, a seasonal cafe, a bowling club and a garden dedicated to Rabka, Frome's twin town in Poland. The park also has public toilets open during daylight hours throughout the year.
Just as importantly, Victoria Park is home to the Council's team of Town Rangers.
Getting here
The park has two sets of gates: one off Weymouth Road; the other off the public footpath that links Park Road and Somerset Road.
Things to do
Enjoy an event. Summer 2015 in the park saw fun-days,  concerts, the Children's Festival, Voluntea & a pedal-powered night-time screening of Ghostbusters!
On your bike! With a flat path all the way round the park, Victoria Park makes for a great traffic-free environment for kids (& big kids) to learn how to ride a bike
Walk to work, school – or wherever it is you need to get to. Parks are great shortcuts
Get fit – or at least fitter! The circular path all the way round the park is good for walking & running. Time your laps to chart your progress!
Just relax, meet friends and do nothing. Sometimes it's just good to be outdoors
Future plans
Here are our plans for Victoria Park; and Mary Baily next door:
The plan for Victoria Park… approved May 2018
The plan for Mary Baily… approved May 2018
If you have any comments on the plans please get in touch: send in your thoughts & ideas to Chris, our Environment Manager.
Alternatively, pop in to the Town Hall to have a chat; or speak to one of our Rangers in the park.
Useful links
Last updated 8 April 2019