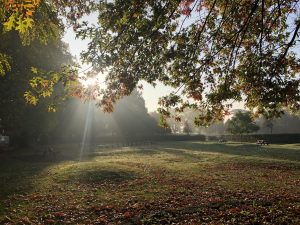 We love our parks and green spaces here in Frome – they're perfect for walking, playing, relaxing, taking a bit of time out… all sorts of things, in fact.
And because we love them we've got a team of dedicated folk working with the local community to try to make them better.
At the moment we look after the following parks & green spaces round the town:
Chateau-Gontier Walk
Foundry Barton
The Otherside footpath
The riverside walk along Henley Way
Mary Baily
Victoria Park
New Road
North Parade
Rodden Meadow
The Dippy
The Old Showfield
Welshmill
Weylands
Chapmans Close
Packsaddle
Tower View
To find out more about each of these spaces click on the place names to the left of this page. You'll find lots of useful information about the space, including what there is for you to do when you visit. Download a map of all our open spaces here (PDF, 2.99MB).
We also have plans for most of our spaces, not to mention seasonal projects – and you'll find details of these here as well.
Some of these spaces feature children's play areas, skate parks and the like. Again, there are more details within each site's page.
Last updated January 2020.