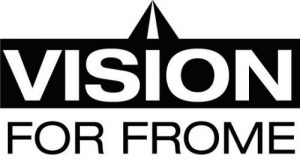 Vision for Frome (V4F) was a voluntary group of Frome residents, working with local government and other community groups, to produce, maintain and promote a Frome Community Plan identifying the aspirations for the town over a twenty year time span.
Its aims were firstly to reach out to the local community through a wide consultation, to get their ideas and suggestions for shaping Frome over the period 2008 to 2028. These views were turned into the Community Plan for Frome, issued and presented to the Town Council in May 2009, and containing a series of aims, objectives and projects resulting from the consultation.
It has become a 'material consideration' in planning matters and is also used as an evidence base for the local authorities. All partners involved in it, including community groups such as V4F, the Town, District and County councils, have a role to play in implementing the Plan so that the opinions of Frome residents are delivered as actions 'on the ground'.
Who was involved?
V4F was an unincorporated association governed by a constitution, with a formal membership and a Management Team appointed from and by the membership. The membership aimed to reflect all elements of the community covering the Frome area, with different skills and experience and a wide range of interests – such as youth, education, business, planning, ecological, leisure activities and voluntary groups, including local councillors and a town council observer. It sought to bring all those involved together with the aim of working to achieve the best for the people of Frome.
It is up to the people of Frome, of all ages and backgrounds, to identify any problems they see and to share their ideas and aspirations for the town, so that the Plan and its underpinning projects can be kept current.
Development
The Community Plan is now a point of reference for the town and those involved in its development and facilities. It is not on a shelf and forgotten about! Instead, it is a living document which will continue to be used in a variety of ways, it will be maintained to be as current as possible, and regularly reviewed to assess when a full refreshment is needed (circa 5 to 8 years) to cover the subsequent 20 years.
At Mendip District Council, it was incorporated into its Local Plan (previously known as the Local Development Framework (LDF)) on the same basis as Parish Plans, and it can be used as a reference document for future planning applications. The Town Council, Mendip District Council and Somerset County Council are able to use it as an 'evidence base' for anything they plan to do which affects Frome, and indeed many if not most of its Objectives now form the basis for the current Town Council's Strategic Plan of work.
V4F, as the Plan's previous custodian, focused on helping to take the projects forward, networking within the town and with external community based groups, assisting in applications for funding, acting as an information source, and continuing to use consultation methods to determine and present community views on a number of issues to assist in achieving what the people of Frome want to be delivered.
This will be an on-going community role, now taken forward by the Frome Town Council as Custodian of the Plan, as agreed via an MOU passing the activity from V4F to the Council; V4F as an activity is now dormant.
For more information about Vision for Frome, or to access documents and information previously held on the Vision for Frome website please contact us.