Following last year's inaugural Women's Day event, the organisers are pleased to announce that the celebration will return on Saturday 7th March ahead of International Women's Day on Sunday 8th.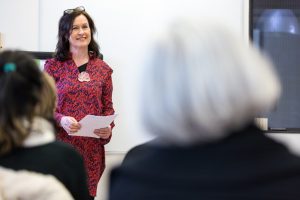 Organised in partnership by Engaging Women, Frome Town Council and The Cheese & Grain, the day will consist of talks, panels and workshops designed around celebrating and empowering women. One of the highlights will be the Women over Fifty Film Festival (WOFFF) coming to the South West for the first time.  WOFFF features films which champion the work of older women both off and on screen and are not made exclusively for a female audience.
Deputy Mayor, Anita Collier said, "I'm delighted that this event returns again this year and I'm looking forward to chairing the morning panel. This session will be dedicated to highlighting local business success and includes speakers such as Sam Evans from the Walled Garden and Pauline Davey of Frome's Chamber of Commerce.  The full line up and workshops will be announced shortly, and I'm thrilled to see the arrival of the mini film festival which will showcase short films in an afternoon session"
Workshops will include unlocking your blocks to achieve your potential, financial capability, well-being, using your phone to make promotional films and lots more.
The theme for this year's International Women's Day is 'Each for Equal' and that collectively, each one of us can help create a gender equal world.  As such this is an event devised, delivered by, and with the emphasis on women's stories and experiences but everyone regardless of gender is welcome to attend.  For those who are unable to attend in the day you are welcome to come to the informal drinks reception at 4 pm to network and meet like-minded women.
Tickets for the event and the workshops are £5 each with free entry to the event for young people between 16-18. Further details and booking can be found at: https://www.cheeseandgrain.com/events/international-womens-day-conference/
Published 7/2/2020