Frome's Mini Litter Warriors have been taking the lead recently in the fight against rubbish. Following the successful pilot with Bright Stars Nursery last October, Frome Town Council have been overjoyed that further schools have been volunteering their services and wanting to get involved.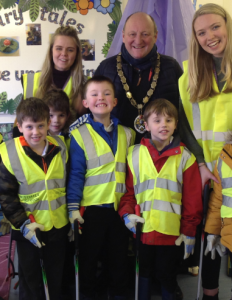 The most recent recruits have been year 2 students from both Vallis and Critchill Schools, while Trinity School have also been out in their droves with many classes taking the opportunity to litter pick.  All classes have thoroughly enjoyed their time and it's been a great opportunity for the children to learn about recycling, what items can biodegrade and how their efforts are helping the environment.
A surprise visit from Mayor of Frome, Mark Dorrington at the Critchill School litter pick, allowed him to witness the project in full swing, he said, "It's a wonderful opportunity for the children to get out of the classroom and it was lovely to see the students take pride in the areas where they live and go to school.  Not only that but it helps them learn about recycling and what can biodegrade; it's such a great opportunity, wouldn't it be wonderful if we could get all schools and nurseries in Frome involved!".
The word is obviously spreading as the schedule for further mini litter warrior picks is already getting booked up throughout the spring term, if you'd like your school to get involved please email info@frometowncouncil.gov.uk to get the ball rolling.
Published 7/2/2020