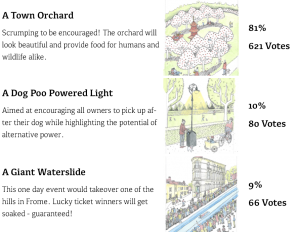 The results from the Peoples Budget Town Votes are in and the Town Orchard has won with a massive majority.  Frome Town Council asked the residents of Frome to choose their favorite project from a short list of three and the winner will be delivered in this financial year.   The projects were a choice between a Town Orchard, a dog poo powered street light and a giant waterslide event and from the 767 people who voted 81% voted for the Town Orchard, 10% voted for the Dog-poo powered light and 9%voted for the Giant water slide event.
Councillor Toby Eliot said "This year's People's Budget Town Vote pitted three projects that didn't make it into the Council's overall work plan for this year against each other. We hoped that it would offer everyone a real chance to steer the Council's strategic ambitions. The response has been fascinating. I fully accept that out of context these projects don't look like priorities for the town. We've learnt a lot and future people's budget programmes will involve the people of the town earlier in the process and give everyone a chance to have a say on impacting some of the serious issues the town faces. Having said that I'm delighted that so many people took part and that we've got a clear winner in the Town Orchard that will now be implemented in the coming year. Thanks to everyone who voted and for all the feedback.
What is clear is that the people of Frome want to make serious choices that impact the wellbeing of the community. The people of Frome engaged in the process and have will have a beautiful orchard for years to come on the back of their decision"
The aim of the people's budget is to engage people about what the town should be doing and giving people a real say over real money.  The PB process also helps people to understand the cost of town wide schemes. The Orchard, obviously an extremely popular choice, will involve maturing fruit trees, be of a significant size and involve some landscaping.
Community Project Officer, Kate Hellard who was out on the streets talking to people about the project said: "Once you started talking to people you could really see that people were keen to make the decision based on information –  Where things might be, how the project would come about or how it would be looked after and were actively weighing up outcomes.  People were shocked at the cost of delivering this type of project.  By and large however people were really happy to engage with the process."
The orchard will be delivered this year in consultation with an arborist.  To sign up to receive the Town Clerk's Update to learn more about this and all our projects please go to https://www.frometowncouncil.gov.uk/council/
For more information on the projects voted on click here.