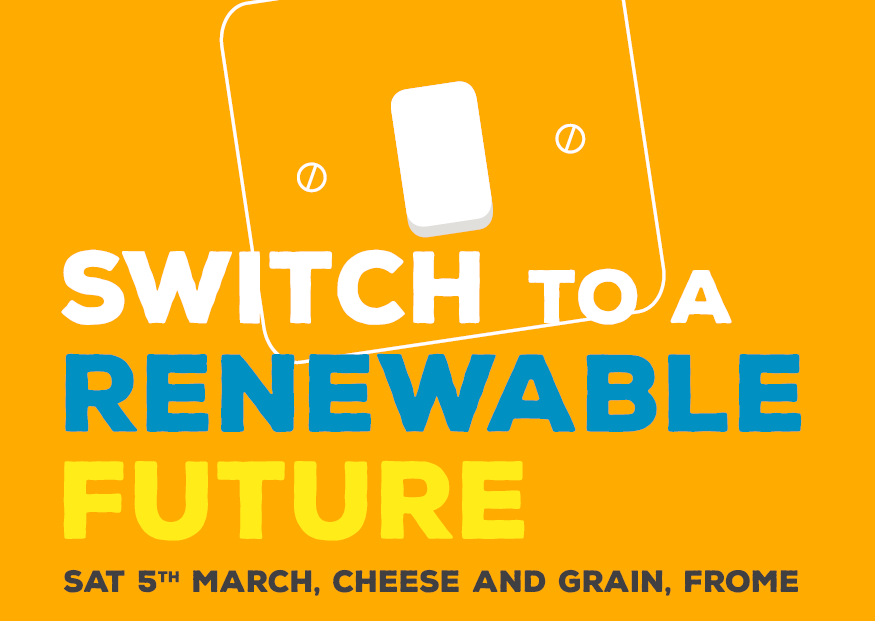 EU Project – Thematic Networking Event,
Switch to a Renewable Future, Frome, March 2016
In March 2016 Frome hosted a programme of activities including a large renewable futures conference, funded by the Europe for Citizens programme. Set up in partnership with Frome's twin towns of Murrhardt in Germany, Chateau Gontier in France and Rabka in Poland, the programme offered each town a chance to show case ideas, innovation and challenges in this area.
The three day programme was attended by more than 90 delegates from the twin towns. On Friday the participants visited local renewable energy projects: Malaby Biogas and Tellisford Mill. In the afternoon a seminar was held at Rook Lane exploring Planning, Policy and Finance to enable carbon reduction – Local, Regional and European Perspectives, for more info and to see the seminar programme click here. 155 people attended the Friday seminar.
On Saturday 5th March the main event, 'Switch to a Renewable Future' was held at the Cheese and Grain. 230 people attended the event which explored how we can cut emissions from buildings, generate energy cleanly and work towards becoming a renewable town, with fascinating case studies from Frome, Germany, France, Poland and the Isle of Eigg.
Talks and discussions covered: community energy, low carbon refurbishment, hydro power, biogas from waste food, sustainable lifestyles and renewable energy scenarios.
Speakers included: Bob Prewett (Prewett Bizley Architects), Pippa Goldfinger (Frome Town Council), Anna Francis (Frome Renewable Energy Co-op), Thomas Minter (Malaby Biogas), Anthony Battersby (Mendip River Power), Prof Keith Barnham (Solar Revolution), Camille Dressler (Scottish Islands Federation) and speakers from our twinning partners from Chateau Gontier (France), Murrhardt (Germany), Rabka (Poland)
Full programme is available here Switch Programme Sat 5th March and biographies. A short summary of the four European events is available here: info_template_en
Presentations and translations for both events are available here
Films of some of the talks are also below:
Why are some countries more able to establish community energy than others? A cross cultural perspective – Professor Axel Goodbody, University of Bath.
New finance models – local energy supply in the UK – Jan Willem, Mongoose Energy
Going for zero, how to become a 100% renewable town – Professor Keith Barnham
How low should we go with lowcarbon retrofit? – Bob Prewett
Community Energy – Anna Francis, Frome Renewable Energy Co-op
100% Green, Wyke Farms – Lucy Francis
River Power Around Frome – Anthony Battersby, Mendip River Power
A renewable Island – Camille Dressler, Isle of Eigg
Community Energy in Germany – Jakob Schafer