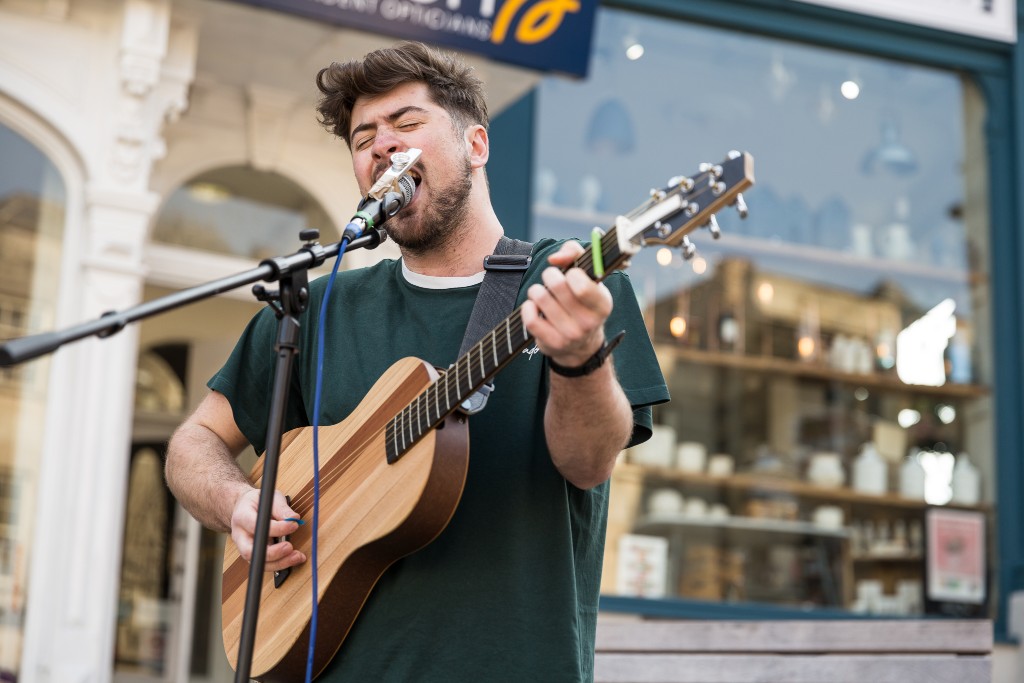 Frome Busks is back and will be taking over the town on Saturday 26th March with a full and exciting line up. Dotted across the town will be a host of talent from Frome College who will be attracting your attention with their musical prowess from 11am – 2pm.
Each of the acts will perform for 15 minutes before rotating onto the next stop, you'll be able to catch them at one of the town's iconic locations, from the Boyle Cross to Catherine Hill, from Cheap Street to the Cheese and Grain. There are 8 locations across the town, and you can find a map below and on the Frome Busks page.
The acts bringing their voices and instruments to some of Frome's most popular spots, include:
Leah & Emily are in Year 10 and will be performing a mixture of original songs in an acoustic pop style. Leah is singing whilst playing acoustic guitar with accompaniment from Emily on Piano.
Soloist Edie Ray is a talented singer songwriter in Year 10. She will be performing a range of covers accompanying herself on guitar. Edie is a big fan of Muse.
Millie, Phoebe, Bella & Lainey make up this vocal group. The band are all in year 10 and are big fans over everything musical theatre and pop! All of them will be singing and Millie and Lainey will be providing guitar and piano accompaniment.
Daisy & Ellie are seasoned pros at Frome College, both are in year 12 and studying A level Music Technology. Expect beautiful harmonies over guitar accompaniment.
Jesse, Mia, Willow & Daisy make up this band and are all in year 11, this group will be performing originals written by talented singer songwriter Jesse. Enjoy cleverly written lyrics with lovely harmonies in the vocals. Jess will be also providing accompaniment on Guitar with Daisy supporting on Piano.
Soloist Ollie is a regular face on the Frome busking scene and can often be seen playing in town on the weekends. Ollie is in Year 13 and currently studying A level Music Technology and is a fantastic classical guitarist.
Laura is also studying A level Music Technology in Year 13. Laura is a skilled singer songwriter who will be singing and playing piano. Laura will be performing range of tasteful covers.
Louis, Joe & Jude will be providing a bluesy jamming experience with their band who will be trawling a Drum kit, Bass and Electric Guitar around town with them.
Mayor of Frome Andy Wrintmore, who's no stranger to performing with his hardcore punk band 'SickOnes', will be watching the performances on the day and said: "I can't wait to see the amazing talent from Frome College and implore everyone to come into town and show them your support. They're also raising money for future music projects and initiatives at the college so please show them some love on the day. And in years to come, when they're world famous, you'll remember catching a free show in Frome!"
Special thanks to 23 Bath Street for their support with this event.