Performances will be spread across some of the most iconic parts of the town centre from 11am-2pm. Each participating act will perform a 20 minute slot in each of the locations across the town which include: King Street, Cheap Street, The Boyle Cross, Catherine Street, and The Westway.
The judges, who include Al O'Kane, Frome town councillor and musician, James Eller, long time bass player for The The and Chris Whitten, a drummer who has toured with Paul McCartney and Dire Straits, will then deliberate and announce the winner at 2.30pm at 23 Bath Street.
The winning act will be able to perform at a later date at 23 Bath Street, Sunrise Celebration Festival, supporting Ben Ottewell at Rook Lane, and given the chance to record at the Cheese & Grain's new recording studio.
Meet the Acts for 2019
Clare Krige
Clare has been singing from a young age and writing her songs from the age of 18. She grew up listening to classic folk/rock and enjoys playing at open mics with her father and brothers.
Benjamin Hardy-Phillips
Benjamin is a performer in every sense of the word. He graduated Rose Bruford Drama School, works for Magpie Dance facilitating movement for people with learning difficulties and plays acoustic guitar.
James Harriman
Returning performer, James takes a nostalgic 90's Britpop sound and collides it with contemporary folk-rock influences creating a sound that brings old and new together.
Ben Hutcheson
Ben is an emerging folk-rock artist and songwriter. His lyrics tackle universal themes such as love and loss with a contemporary feel.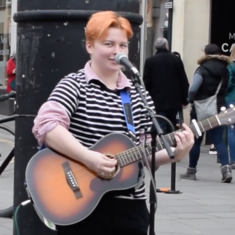 Jake McGregor

Jake is a singer songwriter from the South West with over 8 years of performance experience. Jake wows audiences with his unique and intricate song writing and originality when it comes to covers.