Each year the Mayor of Frome sends out a uniquely designed Christmas card to many different organisations and individuals who they have met over the year.  Back in mid-October the Mayor, Mark Dorrington, asked all the children of Frome to come up with the most creative design around the theme 'Positive and green future for Frome' – how did they see Frome in the future? What improvements could be in place or what would they like to see in the town to make Frome greener and more positive.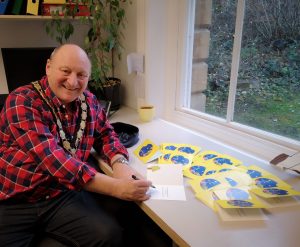 Following a staggering 496 entries, Mark had the huge task of picking the winners of the Mayor's Christmas card competition:
"The entries were astounding; I was so pleased we had such a great response – but it didn't make picking the winners any easier! Following a morning of sifting I chose 3 great entries, but all entries were a pleasure to see and I want to thank all those who took the time and great effort to enter"
Winner: Heidi Robinson, age 7, Trinity School
Runners up: Josey Perkin, age 9, Selwood Academy and Lucas Ashby, age 10, Oakfield Academy
All designs are being proudly displayed in Frome Town Hall display wall and all are welcome to pop in to see if they can spot their design.
Published 09/12/19