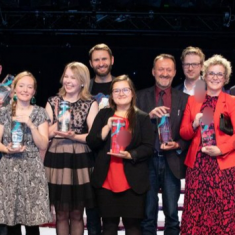 Frome's Community Fridge, the first of its kind in the UK, has won the 'Innovation in Politics Award' for best community project. Set up by Edventure Frome CIC in partnership with Frome Town Council in 2016, the project was chosen from 402 projects from 40 countries by an independent jury of 1067 European citizens.
Anna Francis, Frome Town Council's Resilience Manager, who attended the award ceremony in Berlin by train said "It was so inspiring hearing about all the amazing projects happening across Europe. Winning the award was very humbling. Although the project was initiated by the Town Council and Edventure, it's really down to the amazing team of volunteers who collect surplus food and clean the fridge every day that the project is so successful, so this award is for them. One of the unique things about the Frome fridge is that it's available for anyone to use, it's inclusive and based on trust. It demonstrates the power of community helping each other and this is was one of the main reasons the project was selected for the award."
The fridge and neighbouring larder share over 90,000 items of food a year that would otherwise be thrown away. This saves the same amount of greenhouse gases as driving round the world fourteen times.
To get involved with the fridge contact: fridge@edventurefrome.org
To find out more about Edventure visit: www.edventurefrome.org  To learn more about the council's resilience work visit:  www.frometowncouncil.gov.uk/resilience