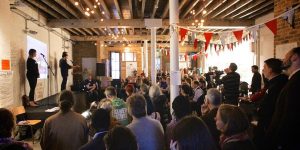 The Local Entrepreneurs Forum is coming to Frome.  It will be a Dragons Den style event with the audience acting as the Dragons pledging their support and assisting start-up projects.  This can be with either, or both, financial and non-financial investment.
The event will take place from 5.30pm on 2 July at the Silk Mill and already eager young start-up businesses are signing up to pitch. The idea is to bring the community together to support local, social, sustainable projects that they want to see succeed in the town.
Entrepreneurs need encouragement, now, more than ever, from the obvious financial assistance, but also offers of time, resources, skills and enthusiasm. The Local Entrepreneurs Forum will promote innovative ideas as well as connecting communities to achieve more collectively.
Cllr Mark Dorrington said, "This event was the perfect fit for our Community Grants programme and I'm delighted we've been able to support it. Entrepreneurs need all kinds of support while they are getting started and this really gives the power to the community to choose what they want to see in Frome and help the local economy to thrive. It also encourages businesses right from the offset to think about good business practise:  being sustainable and ethically centred."
Tickets to attend are free and guests will be treated to a delicious, locally sourced supper before being asked to 'invest' in local start-ups or enterprises that need help to grow.
Lisa Hawes of Edventure Frome says, "We're glad to be able to bring an LEF to Frome. It's such a simple, positive concept that is already proven to contribute to an inclusive, fair and resilient local economy. The evening itself will be informal, connective and fun – an opportunity for us to come together and do something with an immediate, tangible effect."
Anyone interested in pitching their projects to the community whether to help raise the profile of your venture or to gain support should email a short summary of their start-up idea to Johannes Moeller. Entrepreneurs with a great idea but still not sure about pitching are invited to attend the Good Business Bootcamp on 21 May to stimulate, inspire and support you as you develop your business concept. Find out more here.
Anybody is welcome to attend whether it's to offer support to the pitching enterprises or just find out more about new and exciting local projects.  Booking is FREE but essential so reserve your space here.
Frome Town Council's Community Grants programme is now open and will close at 5pm on 29th May, find out more and apply for support here.
The event is hosted by Edventure: Frome, working in partnership with Frome Town Council and The REconomy Network.