If you've come along to a recent Council meeting you will have noticed that Frome Town Council is doing things a little differently now – with more discussions at meetings – and a more inclusive, less formal approach.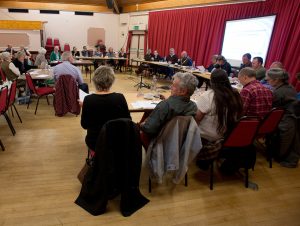 This is all being done to encourage town participation; and if you come along you could well find yourself sitting together with Staff, Councillors and other members of the public, discussing the meeting's topics.
Our next meeting is the full Council meeting on Wednesday 21 September. Starting at 7pm, the meeting will be at Rook Lane Chapel, Bath St, Frome BA11 1DN.
The future of the 267 bus service to Bath will be a hot topic on the agenda – and Cllrs will decide whether to provide a subsidy; to help keep the service running. So why not come along to have your say on this and shape the debate.
The meeting will also see plans for the Cheese and Grain presented by Steve Macarthur; Cllrs will then discuss if the Town Council can provide a grant to restore the Tower. Other items on the agenda include the Town Council's Crowdfunding initiative; a proposal to reduce carbon emissions to zero for the town by 2046; and an update on the Frome Town Hall project.
Meetings are open to all and everyone is encouraged to contribute to discussions. You can find out what's on the agenda by visiting https://www.frometowncouncil.gov.uk/meeting/council-2/ or checking out the council's Facebook page: www.facebook.com/FromeTownCouncil/ or on Twitter @FromeCouncil
Dates for all meetings can be found here, and are also on noticeboards in the town.