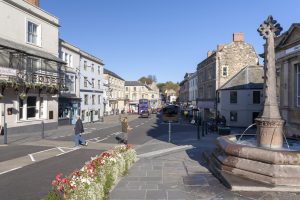 Frome Town Council has developed plans for the next phase of the Market Place improvements to be completed in 2019. This phase will address the problem of congestion caused by the current positioning of the bus stops and seeks to make the Market Place more attractive and pedestrian friendly.
The main elements include:  realignment of the bus laybys so that buses can park off the road; better bus shelters for bus users; enhancement of the existing informal and uncontrolled crossing points by installing wider pavements and coloured road surfacing where pedestrians regularly cross now (the existing zebra and pelican crossings will remain); improving the footpaths; a new loading bay outside The George and some adjustment to but no reduction of  the disabled parking spaces; and finally new seating and planting.
The plans follow consultations over a number of years and represent the final stage before Frome Town Council considers the proposals formally on 5 December.  A planning application to Mendip District Council will then need to be submitted but Frome Town Council would like your involvement in the meantime.
Councillor Mel Usher says: "This is an important step in making the town centre more pedestrian friendly and to improve its rather tired appearance. Every consultation we, and others, have undertaken has pointed to movement around the town centre as a major concern. It is also important that we invest in our public spaces. Nothing lasts forever and it's crucial when people are increasingly shopping on line or out of town that we improve both the convenience and attractiveness of our town centre."
To see the exhibition, go to Frome Town Hall between 8 November and 22 November.  The Town Hall is open Monday – Thurs 9 – 5pm and Fridays 9 – 4.30pm.
On 8 November (12-3pm) and 12 November (4 – 7pm) there will be drop-in sessions when the Project Team will be on hand to answer questions and the exhibition will also be open.
Frome Town Council have also arranged to meet groups representing specific interest groups including Frome Chamber of Commerce and town centre businesses, Frome Civic Society, various access groups, the bus companies and emergency services and have worked extensively with Somerset County Council Highways Team to develop the scheme to ensure that the scheme is both safe and workable.
Go to to view the visualisations here, and for more info. Please leave comments at consultation@frometowncouncil.gov.uk