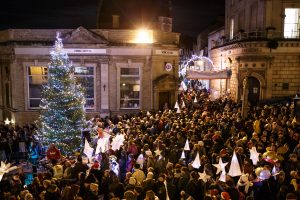 Rachel Clarke, Frome's very own world record breaker is set to turn the Lights on at Frome's Christmas Light Switch on event this year in what it is hoped to be a festive celebration to warm the coldest night.
The event, on the evening of the 30th November marks the start of Frome run up to Christmas, and features the lantern parade with the Samba band again this year as well as firm favourites the Frome Town Band. 
Mayor Rich Ackroyd who asked Rachel just days after her record-breaking achievement said: "She was the obvious choice.  Rachel has raised thousands of pounds for local charity WHY and put Frome in the Guinness book of World Records with a really fantastic achievement. And of course, not just for her but for all the Frome residents who took part."
The event will start from 5pm with entertainment and the singers from Frome's Rock Choir from 5.30pm; Rare Species will present Mojo Moves – a comedy Christmas workout to set you up for the festive season at 6pm and the lantern procession will set off following the Samba band from St Johns at 6.15pm. 
Everybody will then join together with Songbirds and Frome Town Band to sing festive carols. The Mayor and Rachel Clarke will take to the balcony for the light switch on and the Samba band will mark the occasion by playing for ten minutes before leading the procession off to the library. 
The food stalls will be open from 5.00 – 7.30pm and will offer Christmas treats including roast potatoes, Christmas dinner burritos and of course mulled wine.  The scouts will also be there with hot chocolate, spiced juice and mince pies. 
There is still plenty of time to be part of the lantern parade by joining one of the community events to make lanterns. The workshops, created by Frome Light the Night, where chosen for funding by The People's Budget back in March and are all free to attend. You can find outmore information and the times here. 
The roads into and surrounding the Market place will be closed from 4pm – 9pm so please use an alternative route. The Market yard car park will remain open.