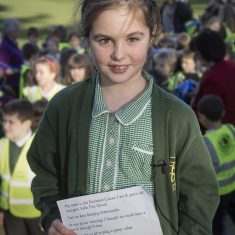 Over 400 children from eleven different Frome schools joined forces in Victoria Park last Wednesday to rally against bullying in Anti-bullying week. The idea came from Frome school girl Isla Stockland Coates and was agreed by her fellow Anti Bullying Ambassadors at Vallis First School who approached Frome Town Council to see if they would like to support.
Richard Ackroyd Mayor of Frome said 'Of course – we were delighted to support the young people to put their idea into action and it is incredible to see so many children here today. It is a credit to all the schools attending that they were able to follow through with the idea – which was difficult logistically."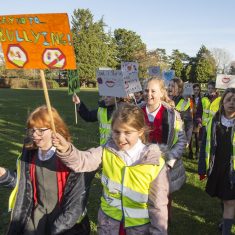 The children were welcomed by the Mayor of Frome, then each school shared their chant, and the children walked around the park with banners and placards that they had made.  The children gave a clear message that they want bullying to stop and they would like adults to support them in stamping it out.
Isla and her school friend then led everyone in a Hi-5, Handshake, Hug activity before Avon and Somerset local PCSO's introduced themselves as someone else young people can talk to if they are worried about bullying. To demonstrate togetherness the children then all linked together using blue ribbons.
The fact that so many schools joined in suggests that the schools are strongly in support of this initiative. Toby Jenkins from Frome Learning partnership said "Frome Learning Partnership is proud to work together to make Frome and its schools the very best that we can. Seeing so many of our young people from so many of our schools gave a powerful and moving message of respect, friendship and strength in our community."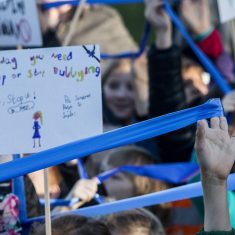 The message is clear – if you are being bullied then tell someone you trust.  If you or a child you know is affected by bullying you can call 0800 1111 and there is more information on https://childline.org.uk.
Watch our film here