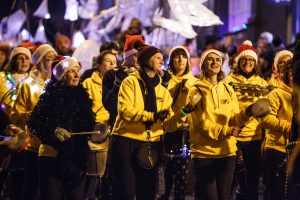 This year's Christmas Lights Switch on will take place on the 30th November from 5.00-7.30pm  in the Market Place and once again the Jamma de Samba will lead a community lantern parade from St Johns church.
Community remains the theme of the event as Selwood Choir will kick off the entertainment at 5.10pm and they will be followed by Rock Choir at 5.30pm – with their traditional and not so traditional take on festive songs. Rare Species will then warm up the crowd by helping you reclaim your Mojo with Mojo Moves before the lantern parade which begins at 6.15pm.  The lantern parade will process in one direction this year meeting at St Johns church with the aim of getting all of the lanterns into the town centre.
Mel Day and Aliss Vaas day from Night the Light have worked tirelessly this year with the community making lanterns in a series of school and community workshops.  The workshops had been chosen by the people of Frome as an event that they wanted to see happen and has had a fantastic response – and there is still time to make a lantern and join in. The final workshops will be on the 22nd, Sunday 25th and Monday the 26th November at the Welshmill Hub.
As the lantern parade arrives Frome Town Band and Songbirds will lead the carols where the other choir sand the town will be invited to join in.
Following the carols Christmas Lights will be turned on with Mayor Richard Ackroyd and Rachel Clarke, who led the successful world record breaking attempt for the most number of rowers rowing 500 meters in 24 hours, from the Balcony. Rachel used the world record breaking attempt to raise money for Frome charity WHY.
As in previous years the The George Hotel and Café Number 5 will be hosting the event again this year: Mayor Rich Ackroyd said "We are so very lucky that the George are so community minded and are happy to host the switch-on from the balcony.  It just wouldn't be the same without it. I am really looking forward to it and to sharing the balcony with our Frome World Record Breaker." 
Song sheets will be available on the night but if you want to prepared the carols chosen this year will be: Hark the Herald Angels Sing, Once in Royal David's City, Away in a Manager,  and Santa Claus is coming to town and the words will be available on Frome Town Council website.  There will also be food stalls, face painters and children's rides at the event and a bucket collection by Fair Frome to support Frome's Big Christmas Get Together. 
And if you have a great idea for a community event like Mel and Aliss and would like to apply for The People's Budget: Events funding email info@frometowncouncil.gov.uk or call 01373 465757.