During this lockdown period, all residents are reminded to keep an eye out on your friends, family and neighbours and offer any assistance where it is needed; and in true Frome spirit, you have all been doing a great job so far.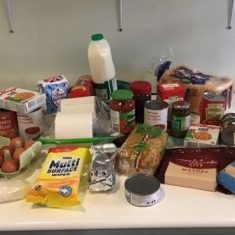 But there may be times when you, or friends and family might not be able to help, so that's when our FruberEats emergency food parcels and our ShopForMe scheme come in handy. All it takes is a quick call to our dedicated number where a friendly member of our team will be on the end of the line to assist. We now have over 300 people signed up to our volunteer register, all offering help and support (safely!) to residents in Frome who are self isolating and need a little extra help.
We've had some wonderful feedback from some residents who have benefitted from our services and found them a lifeline.  One resident commented "The emergency food parcel I received was just the ticket. I was relying on a neighbour who then had to self isolate but one call through to the Council's helpline and I received an emergency food parcel that very afternoon. It was full of the basics that I needed to tide me over and then they even gave me my own volunteer who has been able to go to the shops for me and buy my weekly shop. I'm so very grateful for the help, it's stopped me worrying and it's so nice to know there's help if you need it".
Full details of the services can be found on our website on the FruberEats Emergency Food Parcels page  and also on the ShopForME volunteer shopping page.   If you or anyone you know needs some assistance, please do call the helpline number on 01373 465757 and our team will be ready to help.
Published 24th April 2020.