We at Frome Town Council (FTC) are adhering to current government advice on social distancing and held a virtual Extraordinary Council Meeting on Wednesday 22nd April at 7pm. Rather than taking place in the Council Chamber at the Town Hall, the meeting was taken online and hosted via Zoom, to allow Cllrs, staff, residents and any interested parties to attend and contribute.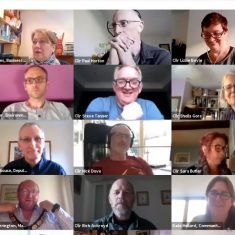 The meeting started with a welcome from Chair, Mayor Mark Dorrington, and moved onto questions and comments from the public and Cllrs.  Mel Usher submitted a question in advance asking if we could do a lessons learnt exercise involving the community to inform future emergency planning and to assess our resilience capability when the pandemic has finished. Peter Wheelhouse, Deputy Town Clerk, provided a response, and explained that there is a working group that are creating a 'bounce back' programme and details will be released when they are ready.  Further updates were supplied on behalf of Somerset County Council, Mendip District Council and Fair Frome.
First on the agenda was Paul Wynne, Town Clerk, who proposed the new arrangements for Council meetings that will operate during the emergency period due to Covid-19. The proposal is to cancel the planned Council and committee meetings and for The Advisory Group (TAG) – an informal group of staff and Cllrs, to meet on a weekly basis to advise the Clerk on making decisions in a timely way between formal monthly Council meetings. These Council meetings will operate in the same way as normal Council meeting with an agenda published in advance of the meeting, and reports, decisions made and formal minutes will be available.
It was proposed the next meetings will be on Wednesday 20th May and  Wednesday 24th June, where the decision on any future meetings will be decided. Cllrs unanimously approved the proposal, you can read the full report here.
Next on the agenda the Leader of the Council, Rich Ackroyd, providing an update on the services provided by FTC during the Covid-19 lockdown. From the initial emergency group meetings with partner organisations within the town, to redeploying council staff in order to set up a helpline, to additional efforts such as information distribution via leaflets, and a raft of web based information to assist residents and businesses.  There is now a bank of over 300 volunteers willing and able to assist, an emergency food parcel and prescription delivery service and also a bespoke shopping service to help those in isolation who don't have a support network.  FTC continues to adapt to community needs and develop programmes accordingly. You can read the full report here.
Kate Hellard, FTC Community Development Manager, followed. She detailed out that a more robust safeguarding policy borne out of the Covid-19 crisis and the additional areas of work FTC have been involved in was now needed. The new Child and Vulnerable Adult Protection policy will replace the current policy and will be reviewed again in 3 months time. Additionally, a temporary volunteer policy has also been developed to cover the work specifically carried out by volunteers during Covid-19, mainly providing bespoke shopping services for vulnerable members of the community. This policy will probably not be needed once the lockdown period is over.  Cllrs unanimously approved the recommendations. You can read the full report here.
The final item on the agenda was relating to a Frome business and contained information that was economically sensitive, so the Mayor proposed that this item is held in confidential session and that members of the public and press will be asked to leave the meeting.
The details of everything mentioned above can be found at www.frometowncouncil.gov.uk and the next meeting is on Wednesday 20th May. Follow us on Facebook, Twitter and Instagram to keep updated on everything we're up to.
Published 23rd April 2020.