ShopForMe volunteer shopping is supporting individuals who cannot access online shopping, by matching them with a volunteer who will do their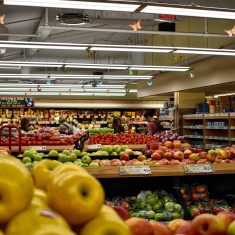 shopping for them.
It is particularly important to ensure that our over 70s don't make unnecessary trips to the supermarket. The ShopForMe service allows more people to isolate properly for longer and therefore ultimately supports the NHS.  To be matched with a volunteer call  01373 465 757.
To access this service you will need to be prepared to have your details taken, and shared with a volunteer. We will match you with one of the many fantastic volunteers that have come forward and it is our hope to find a volunteer that is local to you and who will liaise with you directly. The intention is they will include your bespoke shopping during their own food shop to minimise the number of trips made to a supermarket.
Notes for households needing ShopForMe volunteer shopping
If you are matched with a volunteer to support you through this difficult period, our volunteer should be in touch with you within two days of us making a match. Please let us know immediately if you have any difficulties.
• Please remember that your volunteer is just that, a volunteer, so please be respectful.
• Your volunteer has agreed to shop for you and so the easier you can make that for them the better. Please be clear about your requests, make a list, and discuss any substitutions or allergies etc.
• Please do not ask them to panic buy for you as this request will be turned down.  Other requests such as alcohol, cigarettes and over the counter medicines are fine to make.
• For payment options see below. Please have a conversation with your volunteer at the outset so that you are both clear before any shopping has taken place, about which payment method(s) you are proceeding with.
• Make sure you are in easy reach of your phone when you're waiting for a delivery.
• Please don't ask your volunteer into the house. This is for everyone's safety.
• Your volunteer will place your shopping on the doorstep, step away to at least 2 metres from the door, then ring you to let you know the shopping has arrived and wait for you to take it indoors.
• Please wash shopping wherever possible and wash your hands after touching it. 
Payment
We do NOT recommend that you deal in cash with your volunteer.  Ideally you will organise an online transfer between yourselves. It's recommended that you agree a shopping list and a maximum spend for each shop.
It might be easier to pay your volunteer after your shopping has been delivered since you'll both know exactly how much it cost.
Alternatively, you could use a pre-paid supermarket card or vouchers. We recommend that you and your volunteer keep receipts for reference; your volunteer will know to leave your copy of the receipt with your shopping.
FTC can act as a middleman by taking payment from the recipient over the phone if online banking is not an option. You must ring 01373 465757 to pay for your shopping and Frome Town Council will pass this on to your volunteer.
The volunteer co-ordinators Jess Francombe and Dave Krzyzosiak will be in touch after the initial shop and can be reached on 01373 465 757.  Any problems in the first instance should be highlighted to them.
The key aims are to reduce contact between people and to reduce multiple people touching the same items and surfaces (including cheques and cash).
In order of preference:
| | | | |
| --- | --- | --- | --- |
|   | Payment option | Virus summary | Other thoughts |
| 1. | Transfer direct to the volunteer's bank, building society account, or Paypal | No additional contact and no shared items | Preferred option; but it does involve sharing personal information |
| 2. | Cheque payable to the volunteer | Risk of spreading the virus via the cheque | Slower method for the volunteer to get paid |
| 3. | Cash | Risk of spreading the virus via notes & coins | Quick payment; but arguably the greatest risk of spreading the virus |
NB. Supermarkets are also offering pre-paid cards for people to give to volunteers shopping for them
This payment method limits volunteers to certain shops; and the cards should be treated as a shared item. But this option is preferable to cash and will avoid any waiting time for volunteers to be paid (so might be preferable to cheques for some volunteers).
Keeping safe: simple measures to reduce the risk of contracting or spreading the coronavirus:
If you can, pay via an electronic transfer: no additional contact between people
Cheques
If you pay by cheque, wash your hands before writing out the cheque
Volunteers: delay handling the cheque if possible; and only after washing your hands
Cash
If you pay by cash, put the correct money in an envelope for the volunteer to pick up
We want to avoid all instances of change being necessary
If you don't have the correct money, agree in advance what to do
After you've received your delivery, leave the payment envelope on the floor by your doorstep
Volunteers: you can pick this up after everyone's at least 2m apart
Volunteers: delay further handling the cash if possible; and only after washing your hands
Notes
Regardless of how they're made, payments are better after shops have taken place and been delivered; this way they can reflect actual spends
Volunteers to take copy receipts for themselves and the people they're delivering to
Volunteers and households can then retain their own copies of all receipts for future reference
Volunteers and households to agree shopping lists; including maximum spends
FTC as an intermediary
In this model, the household would pay FTC for the delivery
Then FTC would pay the volunteer
This adds an extra layer of administration and a potential time delay
But if this is preferred by people for whatever reason, then we are able to offer this service at the moment
FTC would need to see a copy receipt to match the payment amounts coming in (from the household) and going out (to the volunteer)
(We'll keep this service under review; especially if it becomes preferred and used by lots of people)