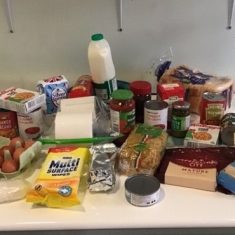 FruberEats Emergency Food Parcels
This is an emergency food parcel delivery service for those who have no support system and designed specifically for those residents of Frome who are running low on supplies and unable to visit the shops for basic necessities. The service will run Monday to Friday, and our lovely team of volunteers will pack and deliver the emergency parcels. There are two varieties to choose from:
This parcel will contain basic, non-branded essentials and might include items such as bread, milk, eggs, butter, tinned goods, cereal, toilet roll, soap and a small selection of fresh fruit and vegetable depending on availability – £20
A smaller parcel which will contain fresh fruit & vegetables, it may also include perishables such as milk and bread depending on availability – £5
Payment for the parcels will be payable by card.  The parcels will be packed and delivered safely, following strict guidelines and social distancing. Read about these guidelines on our Volunteer page.
To arrange for an emergency delivery, please call our main number on 01373 465 757, where our team will take details and make the arrangements.
Payment Options
In order of preference:
 
Payment option
Virus summary
Meaning
1.
Payment via Paypal direct to FTC (info@frometowncouncil.gov.uk)
No additional contact and no shared items
A preferred option if people are set up to use Paypal
2.
Payment via iZettle (following receipt of a text or email from FTC)
No additional contact and no shared items
A preferred option if people are set up to do this
3.
Card payment taken over the phone by a member of FTC's Staff (01373 465757)
No additional contact and no shared items
A good option: quick and safe; and happens straight away
4.
BACS transfer direct to FTC's bank account (20-05-06 / 60431389)
No additional contact and no shared items
Still contactless; but a little more complicated than the above options
5.
iZettle contactless payment at the door – but keeping 2m apart
Potential for contact between people
Keep 2m apart when taking the contactless payment
6.
Cheque payable to 'Frome Town Council'
Risk of spreading the virus via the cheque
Delay handling the cheque; and only after washing hands
7.
Cash

The last and least favoured option

Risk of spreading the virus via notes & coins
Delay handling cash; and only after washing hands
Keeping safe: simple measures to reduce the risk of contracting or spreading the coronavirus
If you can, pay via an electronic transfer or over the phone: no additional contact between people
Cheques
Can be sent to the Town Hall for banking when it's safe to do so
Made payable to 'Frome Town Council'
Cash
We're aiming for 99.9% of deliveries to be paid for by other methods
But if cash is the only way for someone to pay, then payment should made using the correct money in an envelope; we want to avoid all instances of change being necessary
If you don't have the correct money, let us know in advance so we can agree what to do
After you've received your delivery, leave the payment envelope on the floor by your doorstep
The member of Staff who made the delivery will then collect this after you've moved 2m away