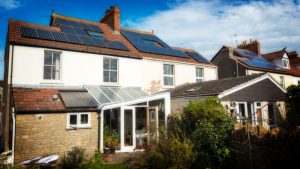 Local solar installer IDDEA is working with Frome Renewable Energy Co-op and Frome Town Council to offer significantly discounted solar for Frome households. Director Ian Dunstone said 'A 4 kw solar pv system to generate clean electricity would usually cost around £6000. As ten households have now signed up in Frome, we can reduce this to £3750, including a £50 donation to a local community solar project via FRECo. People who recommend the scheme to a friend also receive £100 if the installation goes ahead.'
The government removed the Feed in Tariff in March 2019 which created uncertainty around the future of solar. The good news is that panel and installation costs are now half of what they were ten years ago. The discounted scheme is possible because Iddea can install solar in bulk, saving time, transport and emissions. Households benefit from reduced energy bills and with electricity prices ever increasing the savings will increase over time. As well as saving money each installation will save around 1.5 tonnes of carbon every year. The project supports Frome Town Council's ambitions to become carbon neutral by 2030.
Low interest loans and impartial information about financing options is available from Wessex Resolutions CIC: 01823 461099 or email: enquiries@wrcic.org.uk
Frome's Solar Streets was launched at the Town Hall on 28th March 2019.  Between April and May there have been over 90 enquiries, 53 surveys undertaken and 15 installations are currently under way. The presentation from the event which gives an outline of the offer is available here FROME solar streets presentation .
To find out more or book a free survey contact: info@iddea.co.uk or call 01380 726999
"We are absolutely delighted with the solar panels installed by the iddea team as part of the scheme initiated by Frome Town Council. The initial consultation, installation of scaffolding, followed by the pv panels going up on the roof and follow up customer services all went smoothly and efficiently. As a property which was still running totally on electricity for all our domestic power the benefits have been immediate even on dull days. Highly recommended!" Frome resident