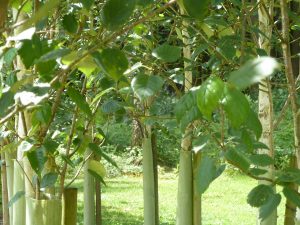 We're passionate about our trees here in Frome, whether that's planting them or protecting them.
And because of that, we've committed to be Wild about Trees.
We're planning to plant thousands of trees over the coming years and you can find out more about our Wild about Trees project by reading these reports:
Wild about Trees project (September 2019) (PDF, 1.04 MB)
Wild about Trees project (November 2019) (PDF, 1MB)
The project got off to a great start, with two community planting days held over the February half-term with the specific aim of fighting climate change. Hundreds of people braved the rain and cold to plant a grand total of 1,200 whips – 500 trees in the field below the allotment site on Birchill Lane and around 700 trees at Weylands.
We planted native UK tree and shrub species including common oak, rowan, wild cherry, beech, silver birch as well as shrubs such as hawthorn and guelder rose. Have a look at the galleries further down the page to see the many happy volunteers planting their trees.
Get involved
We need your help at Weylands to keep the young trees happy during this dry spell. If you have a spare moment over the next week or two, we would love for you to help out and get involved in mulching and watering the trees. Some have already been done, however there are many more that need some immediate attention.
If you are able to help out with the mulching, please remember to follow the Government's social distancing guidelines.
You can find the mulch in the small car parking area and you will also need:
Gardening gloves
A trug or something to carry the mulch in e.g. a wheel barrow or gardening bag
A shovel or spade
Water (around 4 litres per tree)
The process of mulching:
Weeding – please remove any weeds around the tree
Water the tree (just the once at this stage, please)
Mulch a 'doughnut' around the base of the tree (make sure the base is not covered by the mulch)
We would love to see photos of you mulching, if you're able to take a photo of your efforts please send them to hviner@frometowncouncil.gov.uk.
Watch our Ranger Phil's short video guide to successful mulching:
Birchill Lane – 18 February
Weylands – 19 February
Get Involved
There will be plenty more opportunities to help plant and care for trees as we continue towards our goal of planting 27,000 trees in the next few years – one for every Frome resident! We'll be sending out some great stories from our community planting days soon, so get in touch to join our Wild About Trees mailing list. You can email us at info@frometowncouncil.gov.uk or call 01373 465757.
Last updated 28th May 2020.