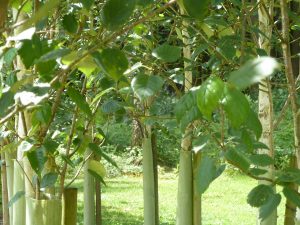 We're passionate about our trees here in Frome, whether that's planting them or protecting them.
And because of that, we've committed to be Wild about Trees.
We're planning to plant thousands of trees over the coming years and you can find out more about our Wild about Trees project by reading these reports:
Wild about Trees project (September 2019) (PDF, 1.04 MB)
Wild about Trees project (November 2019) (PDF, 0.99MB)
The project is off to a great start, with two community planting days held over the February half-term with the specific aim of fighting climate change. Hundreds of people braved the rain and cold to plant a grand total of 1,200 whips. We planted native UK tree and shrub species including common oak, rowan, wild cherry, beech, silver birch as well as shrubs such as hawthorn and guelder rose.
On Tuesday 18th February, we planted 500 trees in the field below the allotment site on Birchill Lane. Then on Wednesday 19th February we planted around 700 trees at Weylands. Have a look at the galleries below to see the many happy volunteers planting their trees.
Birchill Lane – 18 February
Weylands – 19 February
Get Involved
There will be plenty more opportunities to help plant and care for trees as we continue towards our goal of planting 27,000 trees in the next few years – one for every Frome resident! We'll be sending out some great stories from our community planting days soon, so get in touch to join our Wild About Trees mailing list. You can email us at info@frometowncouncil.gov.uk or call 01373 465757