We're passionate about our trees here in Frome, whether that's planting them or protecting them, and because of that, we've committed to be Wild about Trees.
We're planning to plant thousands of trees over the coming years and you can find out more about our Wild about Trees project by reading these reports:
Frome has been making rapid progress towards its target to plant as many trees as residents – that's 27,000 trees. This winter season alone we have planted 5385 trees, with 100 more oaks soon to join them. These winter projects have included nine heritage oaks from Selwood Forest, and 76 large show trees planted at the Old Showfield, and in other places around the town. With funding from Earthwatch, we have planted 600 trees in Frome's first Tiny Forest at Egford Park, and have worked with Frome's Missing Links to plant 300 trees and hedgerows along the cycle path.
There will be plenty more trees to plant next winter! If you'd like to help out, you can join our Wild About Trees mailing list to keep up to date with planting events. Email us at hviner@frometowncouncil.gov.uk or call 01373 465757.
What we've done so far
The Wild About Trees project got off to a great start, with two community planting days held in February 2019. Hundreds of people braved the rain and cold to plant a grand total of 1,200 whips – 500 trees in the field below the allotment site on Birchill Lane and around 700 trees at Weylands.
We planted native UK tree and shrub species including common oak, rowan, wild cherry, beech and silver birch as well as shrubs such as hawthorn and guelder rose. Watch a film of our planting days.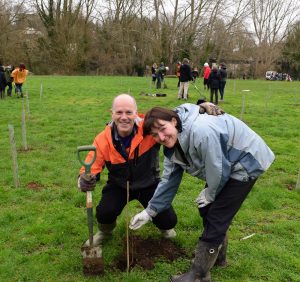 Tiny Forest at Egford Lane Park
On the 13th November 2021 over 150 Frome residents planted Frome's first Tiny Forest, funded by environmental charity Earthwatch.
Residents chose from four designs, and the winning design places education at its core, with two classroom spaces at either end providing ample opportunity for children to learn the wonders of biodiversity first-hand.
The Tiny Forest model works by planting a variety of local species into a dense space the size of a tennis court. The plants are carefully selected to grow at varying heights, meaning they can pack in many more plants than a space of the same size would normally hold. The result is a rich hub for biodiversity, of both plants and animals, and a site that sucks in high levels of carbon.
If you'd like to become a friend of Egford Lane Park and keep up to date with future activities and planting opportunities please email friendsofegfordpark@gmail.com or join their Facebook group.
Get involved
Thank you to all those who helped with mulching our trees at Weylands last summer. Watch our Ranger Phil's guide to successful mulching, which might be helpful for your own garden.
There will be plenty more opportunities to help plant and care for trees as we continue towards our goal of planting 27,000 trees in the next few years – one for every Frome resident! We'll be sending out some great stories from our community planting days soon, so get in touch to join our Wild About Trees mailing list.
You can email us at hviner@frometowncouncil.gov.uk or call 01373 465757.