The excitement is building for the Women's conference being held at the Cheese and Grain on Saturday 7th March, 9:15am – 4pm, ahead of International Women's Day on Sunday 8th March.
The day has a whole schedule of talks, workshops and panels with the content designed to cover many areas; whether your focus is business or well-being, there is something for everyone, all built to inspire, celebrate and empower women of all ages.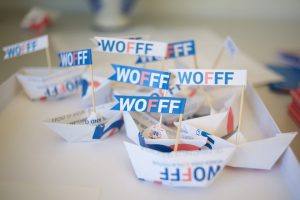 We are especially thrilled that this year we have the 'Women over 50 Film Festival' (WOFFF) as an exciting addition to the conference.   Created by Nuala O'Sullivan, the film festival champions and showcases the work of older women on screen and behind the camera. WOFFF addresses the ageism and sexism many women face in the film industry and believes inclusive spaces to watch films together and conversations between generations of women can help make older and younger women feel less isolated and feel more connected.
Deputy Mayor, Anita Collier, added, "This conference is a wonderful space for these types of conversations to start – the key to this event is to inspire and empower, and with all the special guests and films, this day is not to be missed – it has been designed to enable women to learn from each other, whatever their age and I'm excited to be a part of it by chairing the panel".
Alongside the mini film festival there will be key speakers and workshops and among those contributing on the day will be Jen Gale who writes and podcasts about all things Sustainable(ish) and is the author of The Sustainable(ish) Living Guide.  Transformational and Success Coach, Jaye Mason will be there; Jaye specialises in helping women in business ditch stress, anxiety and imposter syndrome, and to be fearless! There will also a practical 'Filmmaking on your smartphone' workshop with Deirdre Mulcahy and a Q&A with film producer Thomasina Gibson, plus much, much more.
You won't want to miss out on this inspiring celebration of women. Tickets for the event and the workshops are £5 each with free entry for young people between 16-18. Further details and booking can be found at: https://www.cheeseandgrain.com/events/international-womens-day-conference/