Our Wild about Trees project got off to an incredible start this week with two tree planting days. Even the weather couldn't dampen the spirits and the turnout was spectacular; with over 500 places booked over the two days and even more people arriving on the day, the events were a true community affair.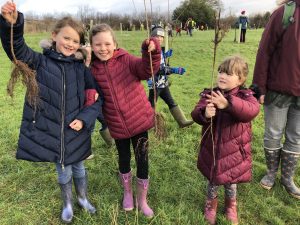 With over 500 saplings at Birchill Lane and around 700 at Weylands, a variety of UK native tree and shrubs species were planted including common oak, rowan, wild cherry, beech, silver birch; as well as shrubs such as hawthorn, which will provide a good mix to grow into native woodland for future generations to enjoy.
Mayor of Frome, Mark Dorrington said, "We have been overwhelmed by the people of Frome, it's been such a great start to our overall campaign to plant a tree for every person living in Frome, all 27,000 of us, over the next three years. These fabulous tree planting efforts are contributing to our overall goal of becoming carbon neutral by 2030.  Meeting the individuals and families who have joined us on these days has been great, and wonderful to see so many children taking time out of their half term to come and help; they will be able to enjoy all their hard efforts in the years to come as the woodlands take root and flourish."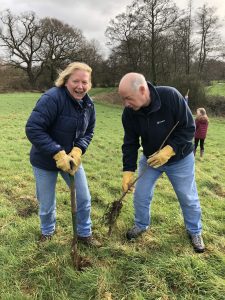 Chris Stringer, Environment Manager, whose team ran the event said, "I'd like to thank the Woodland Trust for helping us to source the trees, the Town Rangers and the full FTC team for putting on these great days, and more importantly, I want to thank the people of Frome for coming out in their droves and braving the weather to support this first activity in our Wild about Trees project. We wanted to include as many people as possible and this half term has been the ideal opportunity".
There will be further tree planting and other activities in the Wild about Trees project, and of course updates on all our wonderful parks and open spaces, so make sure you keep an eye out for further details. You will also find a gallery of the tree planting days – see if you can spot yourself! www.frometowncouncil.gov.uk/wild-about-trees