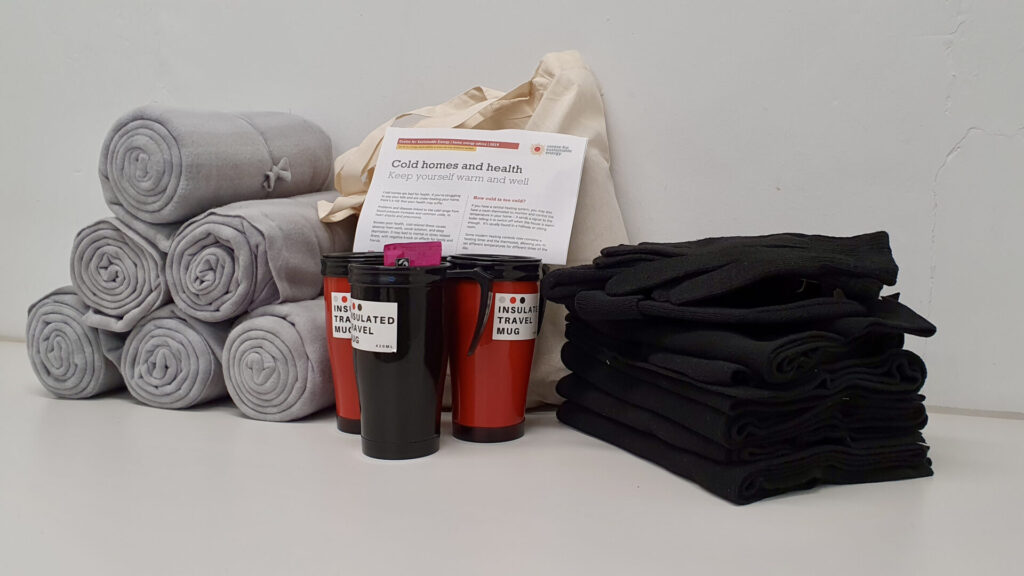 As the days are getting colder and we witness temperatures dropping to below zero the Healthy Homes project wants to ensure that everyone is able to be cosy if they are struggling to keep warm this winter.
Frome Town Council and Frome Renewable Energy Co-operative have joined together through the Healthy Homes project to provide winter warmth packs for anyone in Frome who needs one. The pack contains a scarf, hat, gloves, thermal blanket & socks, a thermos mug plus hot chocolate and information on how to access advice and support.
Cllr Anita Collier said: "We are currently in the middle of an energy price surge, coupled with winter approaching and the temperature dropping below zero, the team have these essential packs if anyone needs help to keep warm this winter."
If you know someone who could benefit from a pack or if you would like one yourself, please visit the reception at Frome Town Hall (Monday-Friday 9am – 4:30pm). Or pop along to either the Talking Cafes (Mondays 10am – 11.30am Cheese and Grain & Thursday 1pm – 2.30pm, Coffee#1) or Talking Benches (every Wednesday from 10.30-11:00 outside Frome Library) both run by Health Connections Mendip.
If you or someone you know would like a pack but is isolating, please email Nikki Brain or call 01373 481957 and the team will arrange to have one delivered to you.
For further hints and tips for staying safe in the colder weather, plus some useful information about who does what in Frome during winter, visit our colder weather page.
The Healthy Homes project is part of the Green and Healthy Futures Programme, funded by the National Lottery's Climate Action Fund.