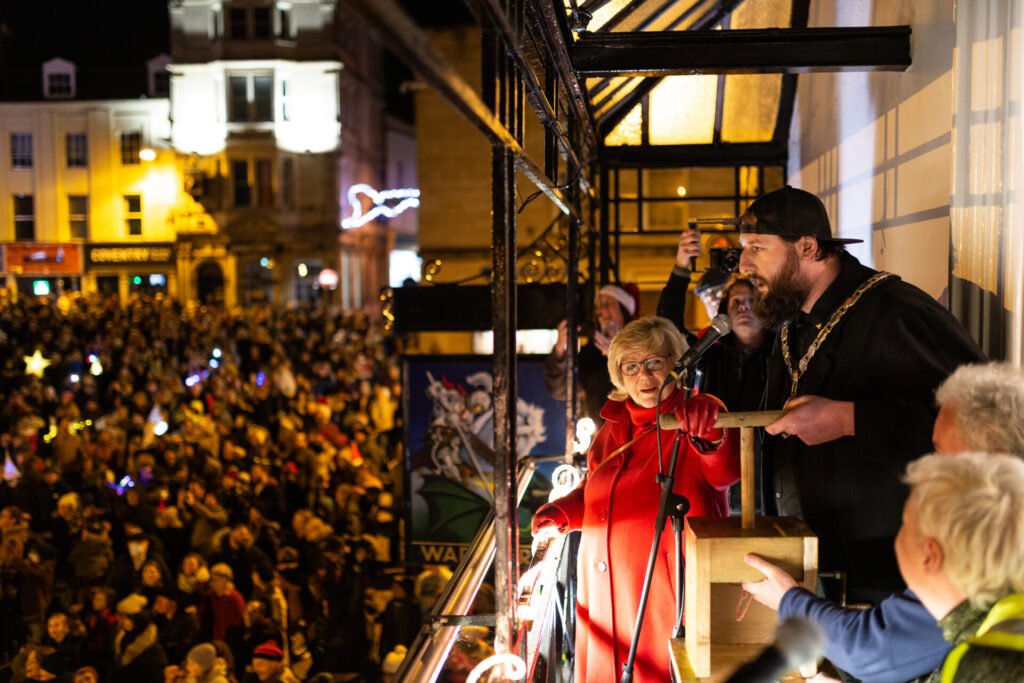 The Christmas lights are on but I think it's still too early for Christmas songs! I'll be avoiding them for a couple of weeks yet if I can. Speaking of Christmas lights, I'm still getting over how amazing Friday evening's extravaganza and lights switch on event was. Firstly, a huge thank you to everyone at Frome Town Council who put in so much work and effort to put the event on and thank you to everyone who volunteered their time to be on the events crew, you were all amazing! We were treated to performances from Frome Town Band, the Rock Choir, Frome Street Bandits and then enjoyed some Samba courtesy of Jamma de Samba as the illustrious lantern parade from Frome Light The Night came marching down Bath Street in droves.
As Mayor I had the privilege and honour of watching the night's proceedings from the balcony of The George Hotel, a tradition that goes back as long as I can remember, and it was awesome to experience that. Our former Mayor, Anita Collier, was 'The Lockdown Mayor' and so during her tenure she unfortunately didn't get the chance to experience these larger events in the Mayoral calendar. Anita was such a good mentor and encouraging friend to me (and still is!) when I was her deputy, that when I took the chains in May I promised her that she would be my guest of honour at various engagements. So, it was hugely heartening to hear you all roar, applaud, whistle and cheer when I introduced her to the thousands of Fromies packing the town centre. Anita had not been informed that I had planned to ask her to join me in switching the Christmas lights on, so much to her delight and the rapture of the crowd we began a bold count down from 10 and both slammed that plunger down to see the lights on the tree illuminate the market square! After the last couple of years through this pandemic and all the things we have had to miss out on as a community it was such an overwhelming sense of joy to see Frome doing what it does best together once again.
Another duty we tackled jointly came earlier in the evening when myself and Anita were interviewed live on ITV West by Adam Grierson (also a Fromie) where we celebrated being able to party as a town once again and hype the night ahead. If you'd like to see this interview as well as footage of my speech and the lights switch on, you can do so by following me on Instagram, just search 'andy_tgp' and you'll find videos and pictures of the event and a load of other Mayoral bits and pieces, clips from my podcast The Giant Pod and all my other adventures in life. There is so much more I'd like to talk about, but I think that'll have to be saved for another week. I would like to close this instalment by saying that in light of the recent announcement of a new Covid-19 variant that's dominating the news, I hope you're all looking after yourselves and enjoying good health. We clearly are not out of the woods yet, but we know that when we look out for each other, as a town we can continue to thrive. So, remember to check in on those around you and do your bit to keep everyone safe and supported. All the love until next time.