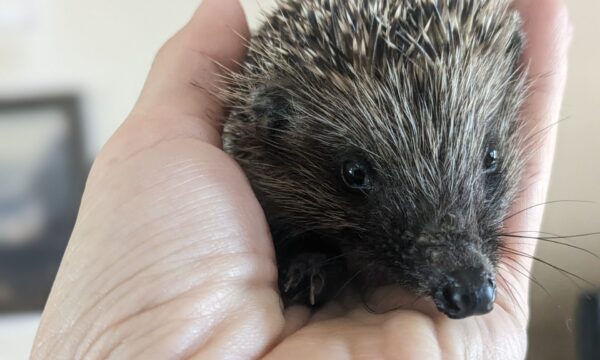 Hello, this is Jo from the Wild Bunch with our latest column.
My recent encounter of two very poorly hedgehogs in the space of only 2 weeks prompted the need for this column to be focused on hedgehogs. I spotted the first tiny hedgehog crossing a busy road while I was visiting my family in Poland. It was out during the day, and it was very small. After being taken to a rescue it turned out to be very underweight (only 270g), had pneumonia and the beginning of scabies. It was lucky to cross my path and get the lifesaving treatment it needed.
The same species of hedgehogs live in Poland as in the UK – the European hedgehog (Erinaceus europaeus), and the same rules apply there – if a hedgehog is out during the day or appears ill or injured in any way it should be brought into care regardless of weight. The same should happen if it appears small or underweight. There is a lot of debate surrounding survival weights for hibernating hedgehogs which can be confusing for the public and rehabilitators. To try to address this a simple-to-follow guide for rehabilitators and members of the public was put together by 6 leading wildlife rescue organisations. It states that hedgehogs should normally be rescued at weights less than 450g in late October – February (depending on weather, frequency at feeding stations, etc). More on this here: www.britishhedgehogs.org.uk/leaflets/Hibernation-Weight.pdf.
Sadly, the second hedgehog found in Frome didn't survive. Again, it was very small and had more fleas than spikes. It was very poorly but at least it experienced some warmth and a full belly before it passed away at Prickles Rescue in Cheddar.
If you see a hedgehog that looks small or thin or is out in daylight, secure it in your home, ideally in a cardboard box lined with a towel and contact Prickles Rescue on 07806 744772 so it can be treated as soon as possible. Due to the high volume of poorly hedgehogs coming from Frome, the rescue is seeking local volunteer drivers who would be happy to transport sick or injured hedgehogs to Cheddar or local foster homes. If you would like to help, please contact their team by email.
I hope you all enjoy reading our columns and perhaps feel inspired and wondering how to get involved. On that note I would like to invite all readers to the upcoming Wild Bunch display at Frome library which will be featured on the notice boards near the entrance. The beautiful jigsaw puzzle design made by our fellow Wild Buncher who is too modest to be named was created to promote our work and show what we are all about. If you would like to learn more about the Wild Bunch and ways to get involved to support biodiversity in town visit the library between 30th October and 5th November.
Lastly, don't forget our next Wild Bunch Gathering on 16th November – Compost and leaf mulch with Loop Compost. To sign up visit: www.frometowncouncil.gov.uk/wild-bunch