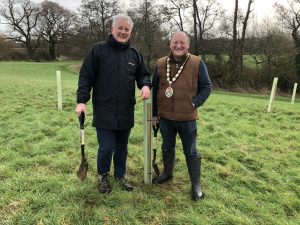 With the way our weather has been lately, it is easy to forget that we will be entering the spring equinox in exactly one month's time. At Frome Town Council we are looking forward to planning for this, with our Rangers planting trees and other plants at an increasing rate so our open spaces can have as beautiful an appearance as possible this year.
I shall be kicking off my attempt to get my allotment in order (sorry, it has been a bit neglected during my mayoral year!) by attending the Potato and Seed Swap Day at the Cheese and Grain this Sunday (23rd). This is an excellent opportunity to buy potatoes and other plants for your garden, many from local suppliers, and is a great incentive to get the growing year started.
We at the council are also planning for the future of your young people, and one of the events we do every year is the 'Make It Happen conference. This year on 9th & 10th March at the Cheese and Grain the conference is for all year 8 pupils in the town. The interactive workshops give young people a chance to learn new skills and find out more about how they can actively get involved in making a difference in their immediate communities and make a positive difference in Frome. I am looking forward to attending to wish them all a successful and productive conference and to hear their ideas for the future.
I would like to take this opportunity to express my sympathy and support to Nigel and his staff since their butcher shop in Trinity was so badly damaged by fire last week. If you have any information please contact the police by dialling 101 or anonymously via Crime Stoppers on 0800 555 111, quoting reference: 5220036700.