Great news, the temporary Post Office counter in the Westway will continue to operate thanks to the landlord, Maybrook Properties, who have generously agreed to continue with the lease for an unspecified time at the current arrangement of a peppercorn rent.
Sarah Wilkins, Sub Postmaster of both Portway Post Office and the temporary service at Westway said: "We're so pleased, this will contribute to the service remaining a viable business proposition. We know the service provision in Westway is important to customers with various needs whether it be businesses banking and posting or individual customers needing to pay bills, tax their vehicles or access to cash withdrawals and deposits. This has become even more important since banks are reducing their opening hours."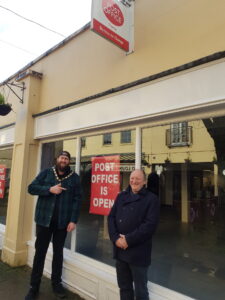 Cllr Mark Dorrington added: "I've seen first-hand how important this service is and it's great to see customers being appreciative and taking Sue and the Westway team to their hearts providing decorations to help to brighten the area up. However, if they are to keep the service running, they need customers and the community to use both Post Offices, so the commission-based income covers the cost. Please support this vital community service."
The opening hours are Monday to Friday: 10am – 3.30pm; Saturday: 9am – 12.30pm.