The town will come alive with music when Frome Busks returns on Saturday 26th March. From 11am – 2pm musicians from Frome College will be bringing live music into the town centre, playing 15-minute sets across key locations including Boyle Cross, Cheap Street, King Street, the Westway, outside the Black Swan Arts and Cheese & Grain, and right up to the Valentine Lamp at the top of Catherine Hill.
There will be a mix of original and well-known songs, with musicians including singers, guitarists, pianists, drummers and even strings. A-Level Music Tech students will also gain technical experience by setting up the event.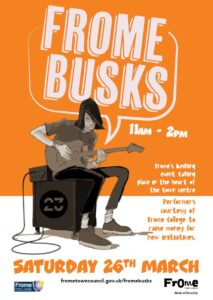 Cllr Rich Ackroyd adds: "Frome Town Council is delighted to support Frome College – Frome Busks is the ideal opportunity for young musicians to gain valuable performance experience. We hope people will come and to explore the great music that will be taking place across the town centre and show their support for the musicians."
Any funds raised through the busking will go towards extra curriculum music performances and productions for Frome College students.
Frome Town Council has a Busker's Code which sets out good practice and covers all forms of street performance including theatre, poetry and other speakers, you can read the code here.