Volunteer Frome sign up event March 29th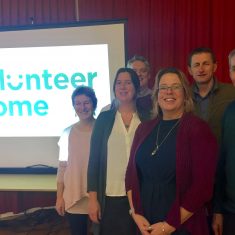 6 – 8pm online at www.volunteerfrome.org
A new initiative launched last week saw a boost for Frome's unsung heroes, the Volunteers.
Volunteer Frome is a website designed to make it easier for organisations to recruit volunteers and for volunteers to have access to all the volunteering opportunities in the town in one place.  More than 30 organisations have already added themselves to the database and now it's your turn!
Community projects officer Kate Hellard says  "The idea is simple: you register your interest as a volunteer and then you can access the variety of roles and opportunities that are available.  If you have certain interests or timing constraints the database can even match you with roles that are particularly suited to your skills, interests and availability."
The Mayor, Toby Eliot goes on to say, "Volunteering is also a great way to help gain new skills, renew confidence, to meet new people or to simply experience the feel good factor of knowing that you have done something worthwhile and many of the excellent events that take place throughout the town couldn't happen with out their volunteers." Frome FM will be broadcasting from The Town Hall on the 29th March between 6-8pm in a programme all about Volunteering and Frome residents are being asked to sign up on the website.
It is also an opportunity to celebrate and support existing volunteers. Every Tuesday SPARK, a leading voluntary sector support organisation in Somerset, will now take up residence in the Town Hall to provide expertise in managing Volunteer Frome and will be on hand to answer all your volunteer questions and to sign post residents to both roles and training opportunities.  Volunteer Frome will also feature Volunteer of the month – an opportunity for the organisations to say thank you to their support network, so who knows, you might even find your story featured on the web site!
To encourage people to sign up there will be a digital launch of the new website volunteerfrome.org the 29th March from 6pm- 8pm. From that point on residents will be able to register as a volunteer and have a look at all the opportunities that the organsisations have added. There is a varied selection of roles from joining the Friends of River Frome on one of there river days, and helping the Town Rangers, to join a befriending service such as Active and In Touch or opportunities such as offering accounts support.
There has never been a better time to get in involved in volunteering whether it is a weekly commitment to your school helping out with reading or a chance to get involved in larger one off events such as stewarding the marathon or the carnival. And there is also no doubt that volunteering benefits the community as a whole.  As the new Volunteer Frome Logo says: a little time, a big difference.
For further information email info@volunteerfrome.org, call 01373 465757 and to sign up from the 29th April go to www.volunteerfrome.org