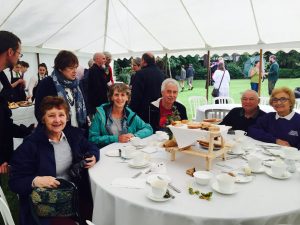 The annual Voluntea in the Park this weekend saw many of Frome's volunteers turn out, this time to sit back and relax while others served the tea and cakes. Frome Town Council, set up as part of Volunteer Frome the tea is to celebrate the key role of volunteers with in the town. From school governors to charity shop assistants, town councillors, children's workers and volunteer rangers in the parks and open spaces all give their time for free to support a wide range of projects, services and organisations and the tea is Volunteer Frome's way of saying thank you.
Kate Hellard Community Projects officer at Frome Town Council said: ' We are especially keen to hear from professionals working in the town who might be able to give a little time to help with things like social media, campaigning and fundraising. Volunteers with a finance background are always in demand. You don't need to sign up for more than you can manage, a few hours volunteering here and there makes all the difference for local projects.'
The tea was opened by new Mayor Shelia Gore who thanked volunteers for their time and commitment to local groups and suggested that they too register on Volunteer Frome to be kept up to date with up-coming training opportunities and social events. Speaking after the event she said "It is great to see so many people from a in range of backgrounds getting together to celebrate volunteering. The summer is especially busy for volunteers in Frome as they support the Children's Festival, Carnival Club, Frome Half Marathon and a whole host of other events and projects across the town so it is lovely to be able to give them the afternoon off and to say thank you."
Frome's vibrant community groups depend on the help of local people in many varied roles such as fundraising, communications, finance and in the delivery of practical tasks such as marshalling at events and collecting donations during the carnival procession. Local people interested in volunteering are encouraged to log on to www.volunteerfrome.org to register their interest and search the wide range of opportunities available.
To find out more about volunteer frome, how to register your organisation or to look into volunteering yourself please contact info@volunteerfrome.org